#TrashTag Project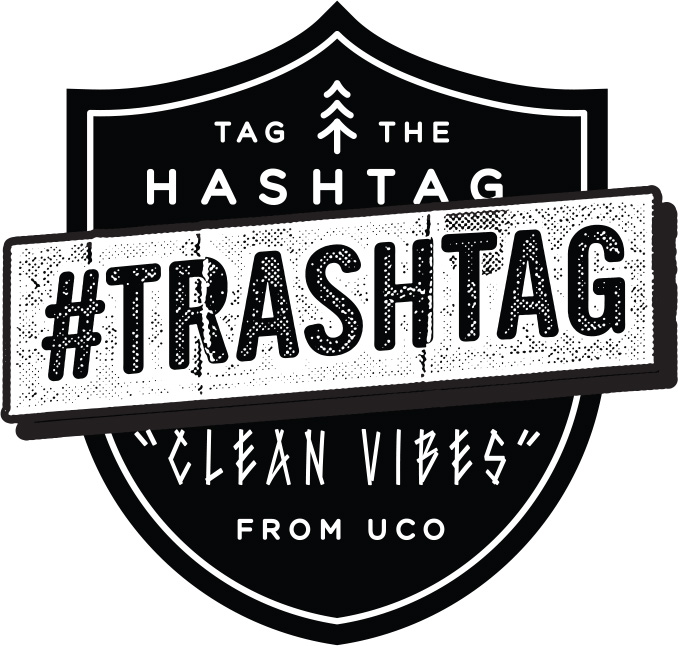 Nobody wants to admit they are a litterer. But in reality, we've all experienced that "accidental littering" moment, and the embarrassment and horror that comes with it. Unfortunately, not everyone feels the same attachment to keeping our natural spaces pristine, and that's why we're so eager to introduce the brain child of UCO + Steven Reinhold, the #TrashTag project. Here's how it came to be:
Written by Steven Reinhold
Our desired destination was Wild Willy's hot springs — a veritable volcanic oasis — on the outskirts of Mammoth, CA. The night before we camped under the stars at the base of Mt. Whitney inside the spooky confines of the Alabama Hills. Early the next morning we were cruising northbound on highway 395 when a shearing cross wind rattled our ride and jettisoned a receipt out of the passenger window and into the picturesque Owens Valley. As I steadied our course my stomach fell to pieces. That receipt was from a disgustingly frivolous gear binge in Bishop, CA. I should have stopped, I should have ventured out into the dessert and removed that heinous relic of my self indulgent shopping spree. However, John and I continued our California cruise and I sat in silence, inwardly haunted by this inadvertent littering fiasco. My "Karma Account" felt indebted to righting the wrong of this unfortunate event. Emphatically, I vowed to gather one hundred pieces of trash during the trip!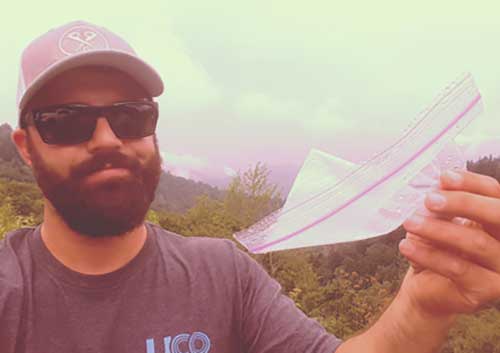 Over the next few weeks I proudly explored our Country in Eco-warrior mode. Our trip led us through Yosemite Valley, Tuolumne Meadows, The Devil's Postpile, Kings Canyon and Sequoia National Parks. In all of these places I cleansed our foregrounds of that nasty and prolific invasive species known as garbage. John had to return home to normalcy after our tour of the Southern Sierras but I continued the quest. An adventurous spirit helped me find more trash on the 14,000′ summit of Mt. Langley, at the base of Mt. Whitney and the shoulder block of Cathedral Peak. I continued my journey North, all the way to the emerald blanketed slopes of Mt. Shasta where I was able to relieve the landscape of 20+ pieces of trash! Jackson Hole, WY was my next destination and there, at the alter of quite possibly America's greatest cathedral — The Grand Teton — victory was finally found. On the shoreline of Jenny Lake I reached down in one victorious swoop and grabbed a tattered granola wrapper — the one hundredth piece of trash removed from this land I so cherish!
The thrill of victory was fresh, an endorphin cocktail circulated throughout my body and my mind raced with the possibility of furthering this quest. If I could convince 100 people to join in then together we could truly make a tangible difference. If I could convince 100 people then why not 1,000… Why couldn't we pick up a million pieces of trash together? Somewhere in those jumbled ruminations, an idea formed and sprung from my mouth as quickly as the receipt had sprung from my window…#TRASHTAG!!! Instead of taking self fulfilling summit selfies we should be "Trash Tagging" ourselves in pictures where we are cleaning up our wild places!
---
Single use plastics are bad but it's hard to kick the habit. Our meal kits are reusable and some are made from natural materials.

Joe Ebsworth – UCO
Introducing Eco Friendly reusable meal kits for outdoor meals – UCO Ware.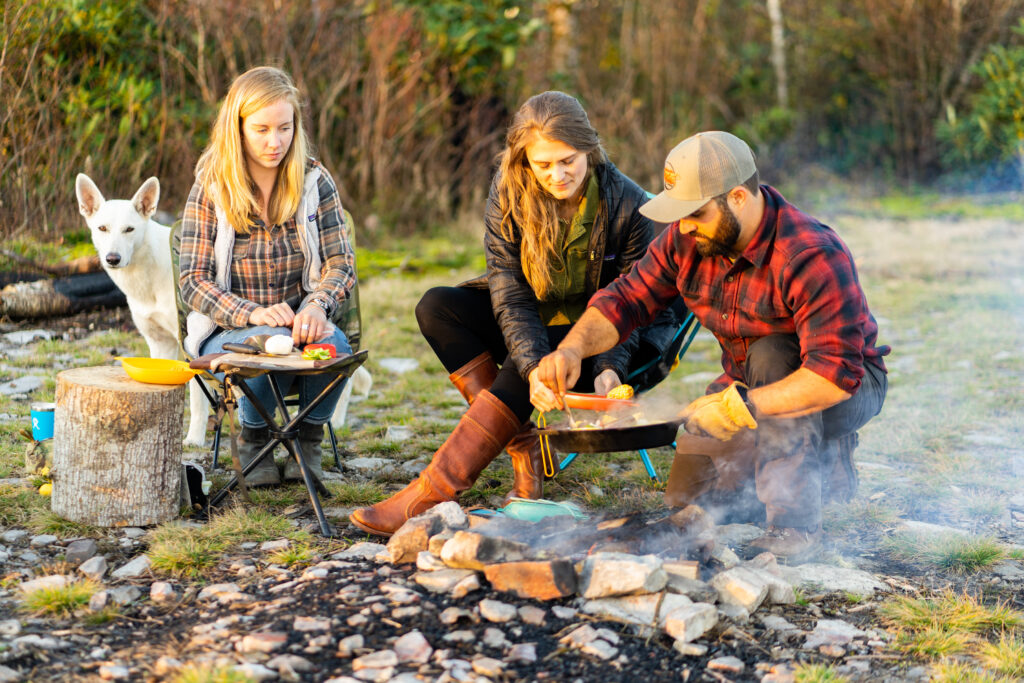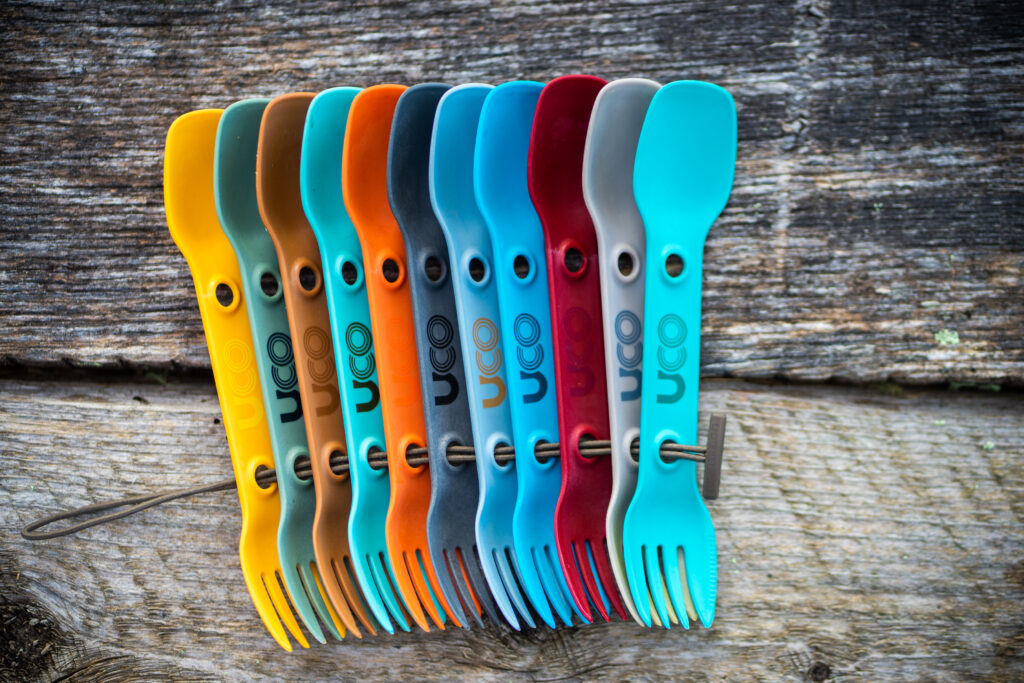 4 Piece Mess Kit
Made from ultra-durable material, this 4 piece Mess Kit is built to bang around in your rucksack on the weekend and pack your lunch on Monday morning. Set this mess kit anywhere because rubberized grips on the base of the lid and bowl ensure it will stay put. The lid and bowl are curved to match the sides of the 3-in-1 Utility Spork so you'll never miss a morsel. Shop Now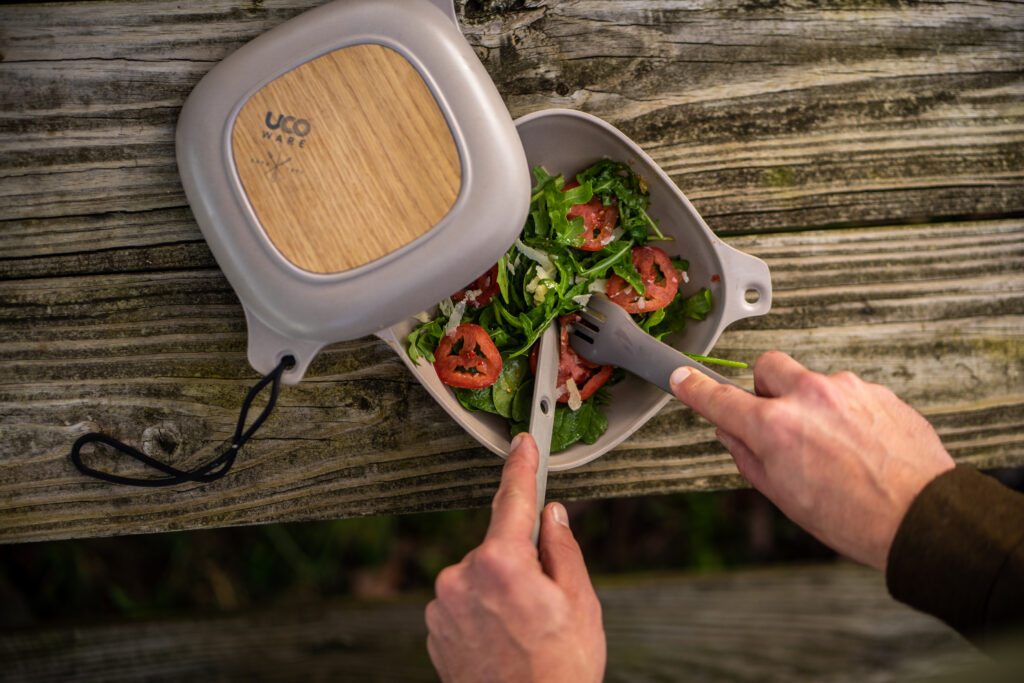 Bamboo Elements Mess Kit
Made from 90% natural content, the Bamboo Elements Mess Kit is a premium non-plastic meal kit that takes outdoor eating to the next level. A leak-proof gasket, reusable tether, and two-piece Switch Spork Utensil Set work together to secure contents for transport or hang the kit to dry. Designed for every last bite, the lid and bowl are curved to match the sides of the 4-in-1 Switch Spork set.