How To Cook Over a Camp Fire
Humankind has cooked over a campfire for at least a million years. Cooking over flames is a rare art form today, though it helped to fuel the evolution of our species' brains. Whether you're in the desert, jungle, forest or on the sand, the natural experience of cooking under an open night sky and against a warm blaze is as primal as it is gratifying and hunger-quenching.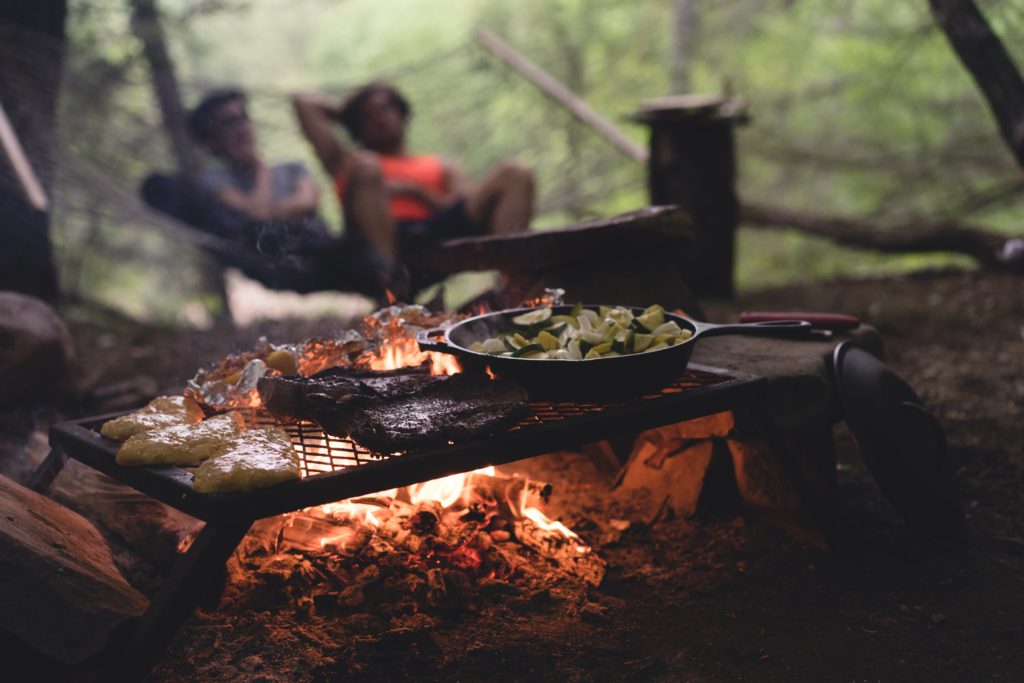 WHY YOU SHOULD COOK OVER A FIRE!
Rich, smoky flavor that is unlike anything cooked in the home kitchen
Enjoy learning and mastering new chef techniques (yes, campfire cooking goes beyond the classic hot dog and marshmallows)
Friends, family, and significant others are incredibly impressed and appreciative when you cook for them outdoors!
Eating a delicious, hand-cooked meal is deeply satisfying in the wilderness
Cooking outdoors requires time, which means, when you're done cooking the group's appetite will be high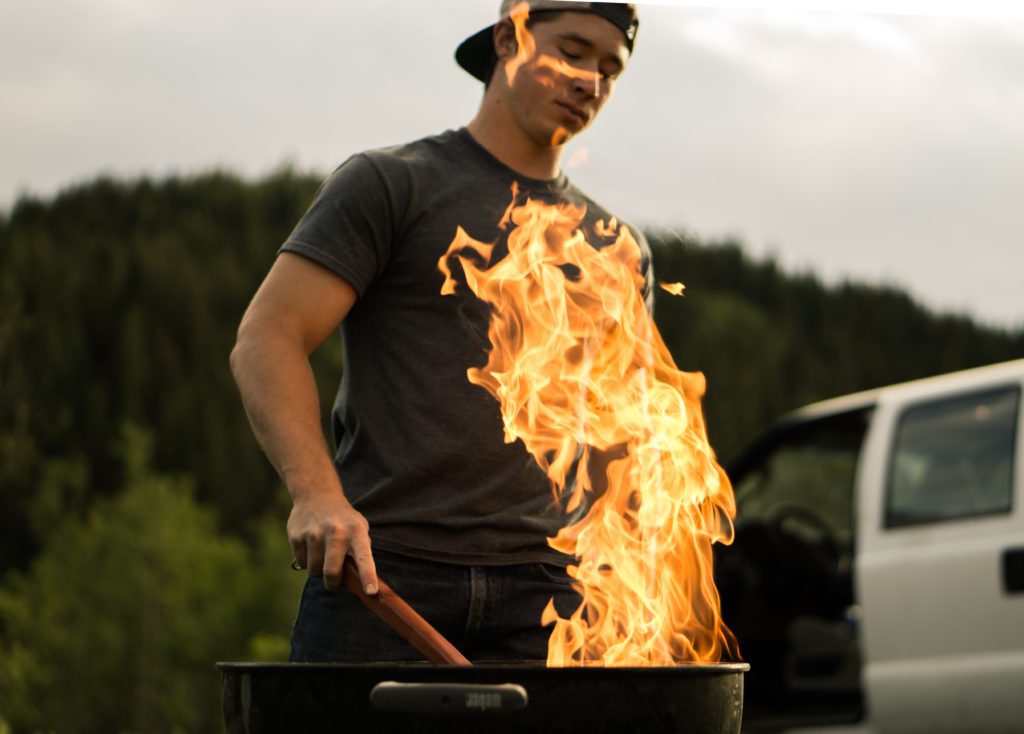 CHOOSE YOUR STYLE
CAVEMAN STYLE
Caveman style: throw your meat directly on top of the charcoal or wood embers in a hole dug in the ground.
ON THE ROCKS
Cook on the rocks. Place or use stones that are adjacent to—but not in—the campfire. Let the stone heat up. To test it, sprinkle a few drops of water on the surface. If it sizzles, you're ready to cook. Have a second stone a bit further away in case the primary stone gets too hot.
GRATE
Let your fire burn down, build it up again, and place a metal grill grate over the top of the fire.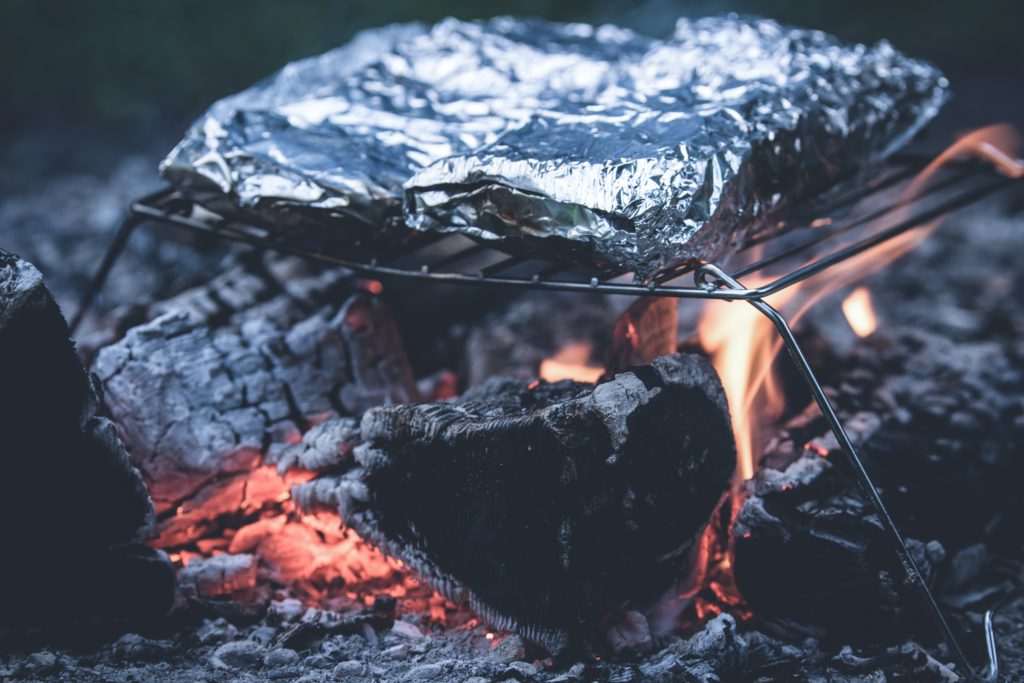 FOIL TOSS
Wrap items in foil then set it next to the fire's flames to slow cook. (Brussels sprouts and corn on the cob are two of our favorite vegetables to roast.)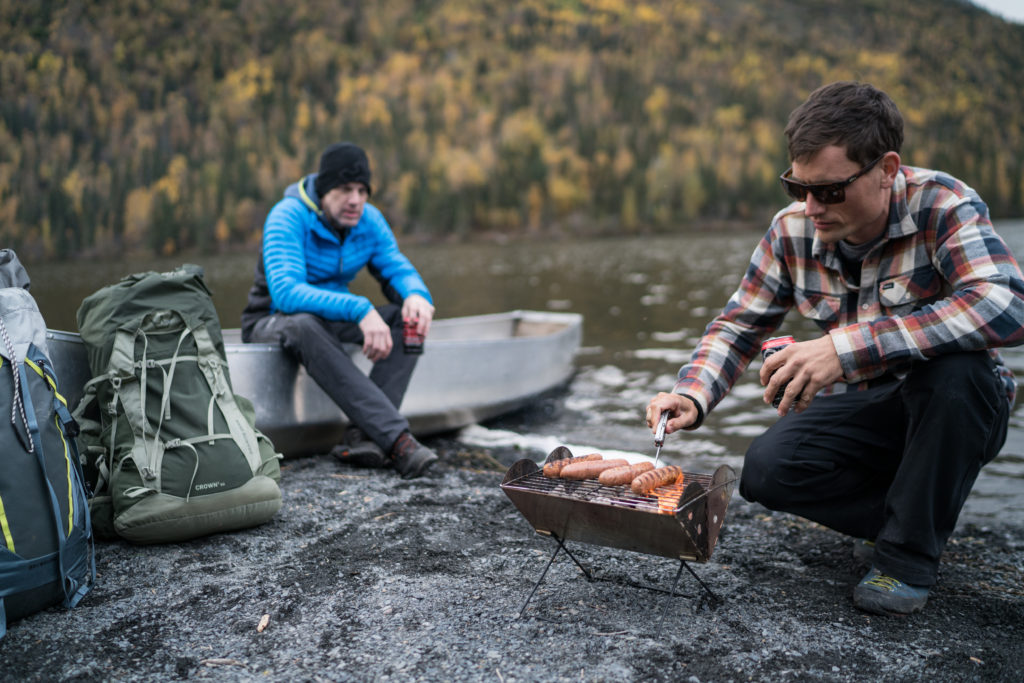 PORTABLE GRILL AND FIRE PIT
If you're in a location where making a fire on the ground is prohibited or dangerous use a flatpack grill.
PORTABLE PITS
Portable firepits enable your group to LEAVE NO TRACE yet still have a small, safe fire.
DUTCH OVEN
These thick-walled cooking pots are heavy, cumbersome, made of cast aluminum or ceramic—and they can cook over-the-top, delicious recipes. Place dutch oven on top of coals, and place coals on top of the lid.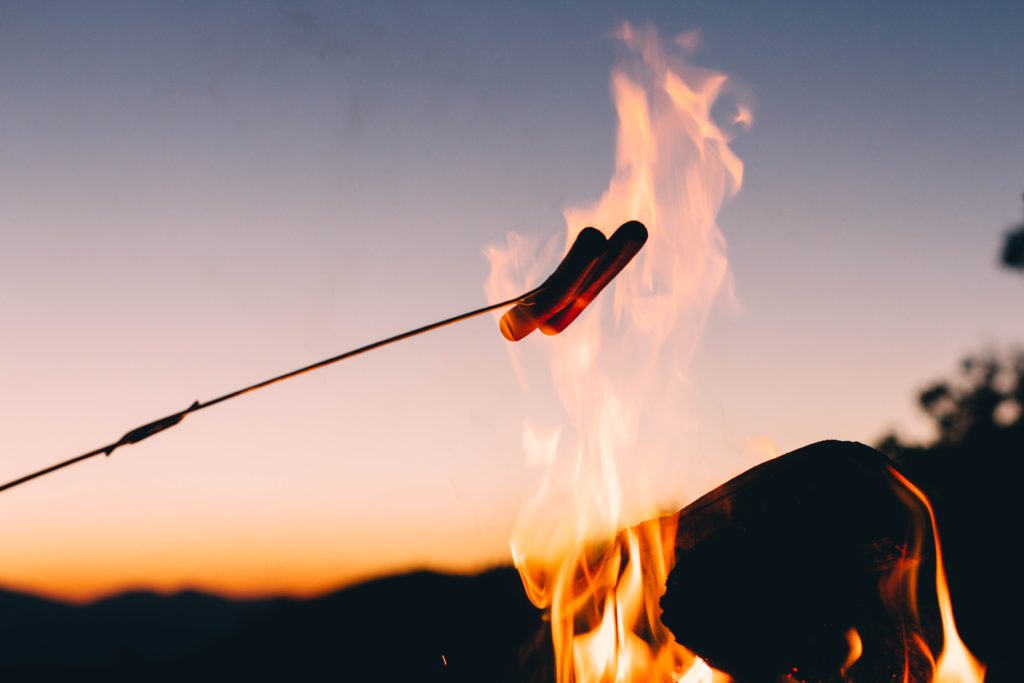 CLASSIC SKEWER
Make sure your skewers are long enough!
PREPARATION
Prepare as many ingredients ahead of cooking as possible: chop vegetables, mix sauces, pack seasonings (in reusable containers), make baking mixes, marinate meats.
WHAT TO PACK
KITCHEN TOOLS
When you dive into campfire cooking, you'll need to pack the bare outdoor kitchen, flame-resistant essentials:
Flat spatula
Tongs
Cutlery including a small knife – Make sure they're metal if you're using near fire.
Small washing tub, wash rag, and eco-friendly soap such as Dr. Bronners
Tin foil
Vegetable peeler
Wine and bottle opener
Plenty of cloth towels (let's be eco friendly!)
Cutting board
Prep bowls
Plates (or bowls) and mugs for each person
Trash bag
Car cooler with ice for perishables (consider a separate car cooler for meat)
Reusable bin for dry goods (coffee, tea, cooking oil, salt, pepper, pancake mix, etc.)
Do it once: After you designate reusable bins with your kitchen supplies and dry goods label the bins and store them in your closet or garage. Make sure to clean and dry all of the cookware and to replenish depleted supplies following every trip.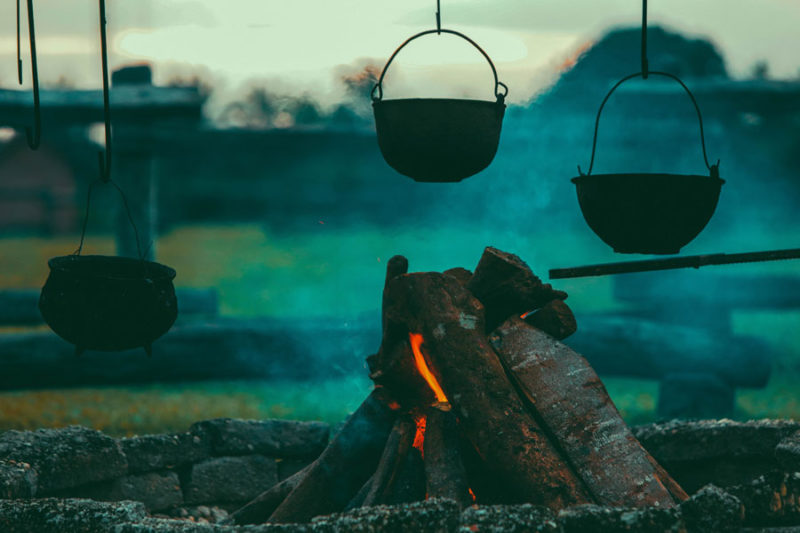 FIRE COOKING TOOLS
Before departing for the woods pack all of the necessary tools to start the fire:
Matches, lighter, or other fire starter
Kindling (small sticks, small pieces of wood, newspaper, or another combustible material)
Coals
Logs! Don't rely on the campground to provide dry wood. The wood could be wet or sold out. There's nothing worse than driving to a remote location only to turnaround for an hour-long errand to pick up the nearest bundle of wood.
Your chosen camp grill
Heat resistant gloves
Teapot (hot beverages are soothing on a cool night or crisp morning)
Consider a thermometer (for meat)
Multipurpose sauté pan
Lidded sauce pan
STARTING THE FIRE
Let the flames build heat before you roast your food. (Read about fire starting techniques here) A new campfire could require 30 to 45 minutes to burn down to the right conditions. Don't build the fire too big, because it will burn down quickly. A sustainable, ideal fire for cooking is mostly hot, glowing coals—which provide direct heat—and a few logs of burning wood.
TIPS FOR COOKING OVER THE CAMPFIRE
Don't be tempted to place food directly over the flames unless you enjoy blackened bites! To help organize your campfire kitchen you can situate the fire to one side of the pit, ring, or bowl and move the hot coals to the other side. Don't forget that high-temperature, bigger-duration cooking also means that the carryover cooking is longer. Plan to remove food from the campfire setup with enough time to cool. Patience is worth the tasty meal: Let the fire burn down before you start to cook. Savor the process!