5 Ways My Gear Changes for Winter Hiking
There are no two ways about it. Hiking gear changes in the winter months and backpacks become heavier. That shouldn't stop you from getting out in the woods.

Wintertime can make for beautiful scenery especially if there's snow. And the same spot can seem like a different planet between winter and summer. Winter backpacking trips can be some of the most enjoyable. As long as you prepared and geared up for the conditions.

This article should be a good primer to get you prepared and out on the trail this winter.
It's winter but no snow yet! – More Layers
The biggest way my gear changes for winter hiking is bulkier layers and more of them. I usually start off with the same basic clothing I would use on my three-season hikes. I change the running shorts for a pair of breathable, stretchy hiking pants. I use similar socks but taller ones, more suitable for boots.

Then depending on the conditions, I add in some more layers. I'll add in an extra set of long underwear to hike in if necessary, keeping the first set to change into in camp. I'll add a beefy pair of gloves or mittens and a heavier duty scarf or balaclava.
Layered up to stay warm
If it's very cold I'll add in a bulky but oh so toasty down parka or belay jacket. The summer, lightweight puffy jacket still often comes along. And I usually include a wool or fleece mid-layer to use as active insulation.

My sleep system also changes to match the conditions. I switch out my summer 10/20F sleeping bag or quilt for a 0/-20F sleeping bag. My sleeping pad is also switched out for a winter-ready one. It sucks to be cold!
I Bring Gear for Fire-Making and Snow Melting
The kind of backpacking trips I go on in the summer means I don't make a lot of fires. That often changes in the winter. In the winter months, my adopted country of Finland makes for great backpacking.

I slow the pace right down, spend more time in camp (not much daylight for hiking) and enjoy time by the fire.
Fire is very important in Winter – Some Essentials
The gear I carry therefore changes. I'll bring along a lightweight but bomber knife to prepare firewood. I'll carry appropriate materials for fire-making and brush up on my bushcraft.

Something I also have to consider is a source of water. Often times lakes and streams freeze over and I have to melt snow. This necessitates carrying a larger cook pot and a more winterized cooking system.
For Winter I Switch from Running Shoes to Boots
In three-season conditions, I hike in lightweight trail running shoes. But, they don't cut it when consistently hiking in below-freezing temperatures. Especially if there is precipitation.

When winter comes along I move to a hiking boot. I've tried many over the years. From lightweight trail running shoes that extend up over the ankle to winter boots with removable liners.
Boots are more cumbersome but important to stay warm and dry when it gets really cold
Because footwear choice is such a personal decision I encourage you to do your research. Check out this informative article on choosing a good winter boot.

Don't immediately go for the heaviest, warmest boot you can find. Remember that adding unnecessary weight to your feet makes hiking all that more difficult and tiring.

Choose an appropriate boot for your trip/environment. It must fit you well and be comfortable for long days out on the trail.
I Switch to A Bomber Shelter
If it's not already obvious, I'm a proponent of lightweight and ultralight backpacking.

Carrying a lighter weight shelter is one of the easiest ways to shed pounds from your backpack. But, a good shelter must do its job and protect you from the weather and conditions you'll be facing. Because of that, I have a few different shelter options that I can choose from throughout the year.

In the summertime, I'll often use a tarp and bivvy combination if the conditions permit. These types of shelter are not fully enclosed and although lightweight, not the best when weather or bugs are at hand.

In shoulder seasons or if there will be bugs/inclement weather in the summer, I'll use an enclosed, single wall trekking pole tent.

These kinds of shelters work great up until the point of legit snow and cold temperatures.

As soon as there's snow on the ground and temperatures really drop, I move up to a winter/expedition style tent. These tents are usually dome-shaped and use the included tent poles. They use heavier duty materials to deal with the weight of snow. They have separate inner and outer tents to mitigate condensation. And have good-sized vestibules to store wet boots and gear.

I don't need these features for three-season trips. But harsh winter conditions make them necessary. Plus, you're spending more time inside your tent during the winter so you want to be comfortable.
More Time in Camp and So More Luxuries Come Along
With the reduced amount of daylight during the winter, I inevitably spend more time in camp.
A Few "Luxuries"
I'm not a fan of night hiking, so once the sun starts going down I start setting up camp. I'll take care of camp chores, change into some dry clothes if necessary and put on a few layers.

Bringing extra food along is always nice, especially fresh fruit that would otherwise be too heavy and more likely to spoil in the summer months.

As a photographer and a videographer, I'd bring all my lenses with me on backpacking trips if it was feasible. Alas on most trips I'm forced to select one versatile lens and call it good. In winter though, I may pack out a second lens that enables me to capture a specific shot I'm looking for.

Recently I've also been packing out a candle lantern. It's great when a fire's not appropriate or if I want to have some warm, supplemental light around camp. On three-season trips, I read books on my phone. But in winter I'll often bring out my book or a magazine to read in my sleeping bag.

These luxury items add weight to my pack but on most winter trips I'm less concerned about that. I'm usually covering shorter distances and spending less time moving. These luxury items maximize my enjoyment out in the woods and that's what it's all about.

What extras do you carry on a winter trip? Drop a comment below!
Don't Let Winter Stop You
There are some of the ways my gear changes for winter hiking. It would be tough to list all the small changes, but if you have specific questions then reach out to me, I'd be happy to help.

Don't let winter get in the way of you having a great backpacking experience. Do your research, prepare thoroughly and start off on an accessible overnight trip. It may be the beginning of something beautiful.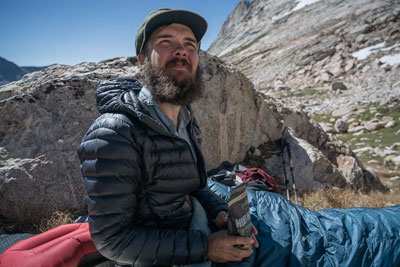 About the Author
Paul "Pie" Ingram is a thru-hiker and a writer. He has hiked the Appalachian Trail, Annapurna Circuit, Continental Divide Trail and many High Routes in the Sierra. He manages pieonthetrail.com, a resource for ultralight backpacking and hiking.

www.pieonthetrail.com
Youtube – pieonthetrail
IG – pieonthetrail
FB – pieonthetrail