How to Cook The Ultimate Campfire Paella
This campfire cooking recipe is for a flavor and protein-rich paella, traditionally made over a campfire and ideal for campers with limited space but high expectations. While it was historically made on a pan on a grill, this version uses tin foil packets to cook it directly on top of coals.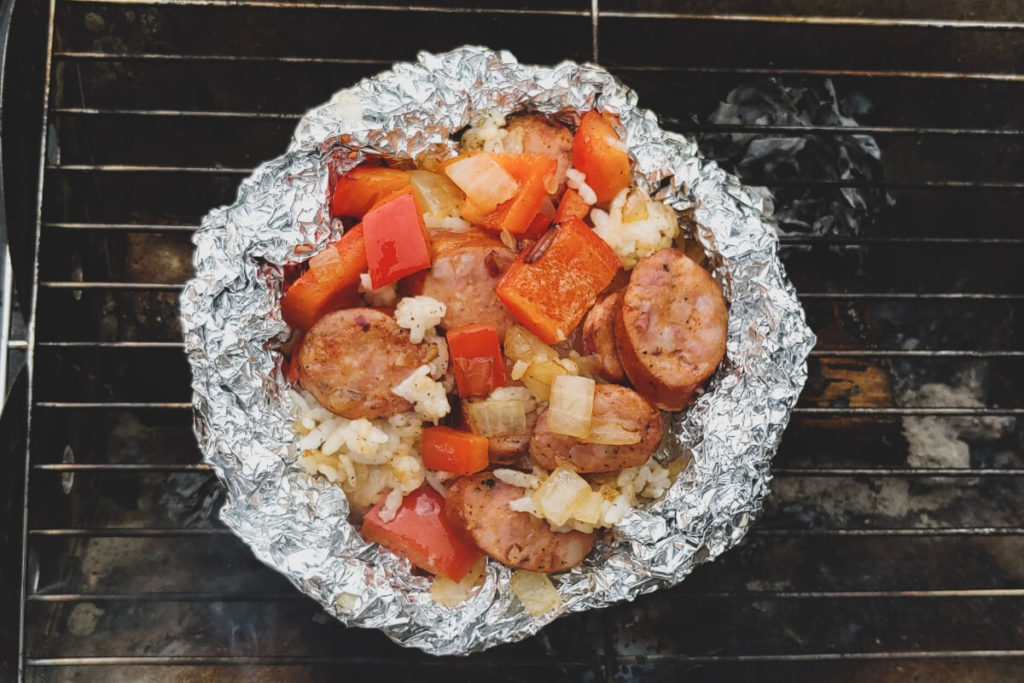 Ingredients:
Dehydrated white beans – they can be hard to find, so use whatever kind of dehydrated beans you can find
Saffron, garlic powder, paprika, crushed red pepper, onion powder, salt and pepper, cayenne (if you like spicy)
Cured chorizo, vegan chorizo, or another cured meat (you can use non-cured if you have a way to keep it cold)
Red pepper and yellow onion
Red wine
Arborio (risotto) rice
2 tbs olive oil
Shrimp and skewers (skip this if you don't have a way to keep your shrimp cool, or swap it for pre-cooked sausage)
Lemon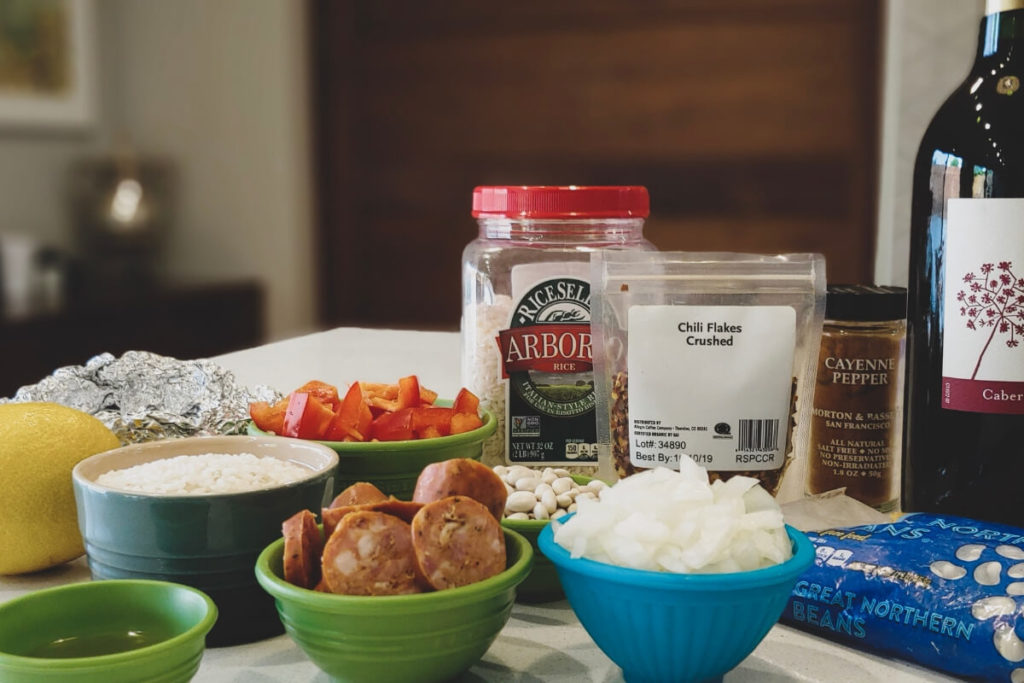 You'll also need:
Large sheets of tin foil (two for each person approx 18" x 18" inches)
Tongs
Forks
Knife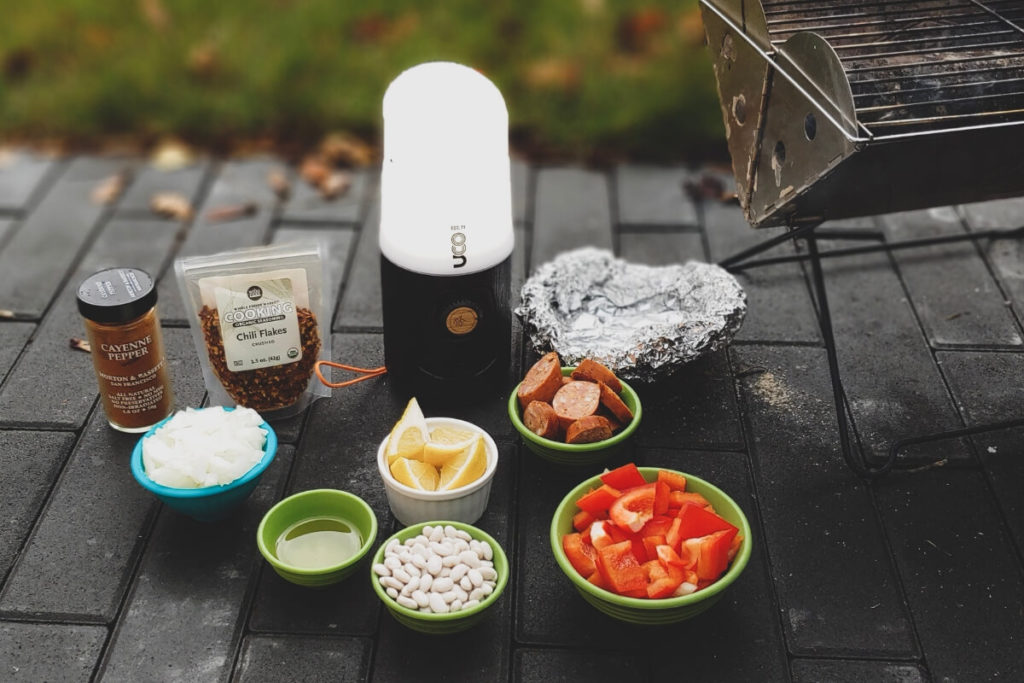 Steps:
(At home)
Pre-slice your onions and peppers and combine with oil into a leak-proof bag.
Soak your skewers in advance for at least 30-45 minutes to prevent burning on the grill.
Pre-spice/dry rub your shrimp/sausage with the same as blend above. If you like your paella with a little kick, add powdered cayenne pepper into the mix.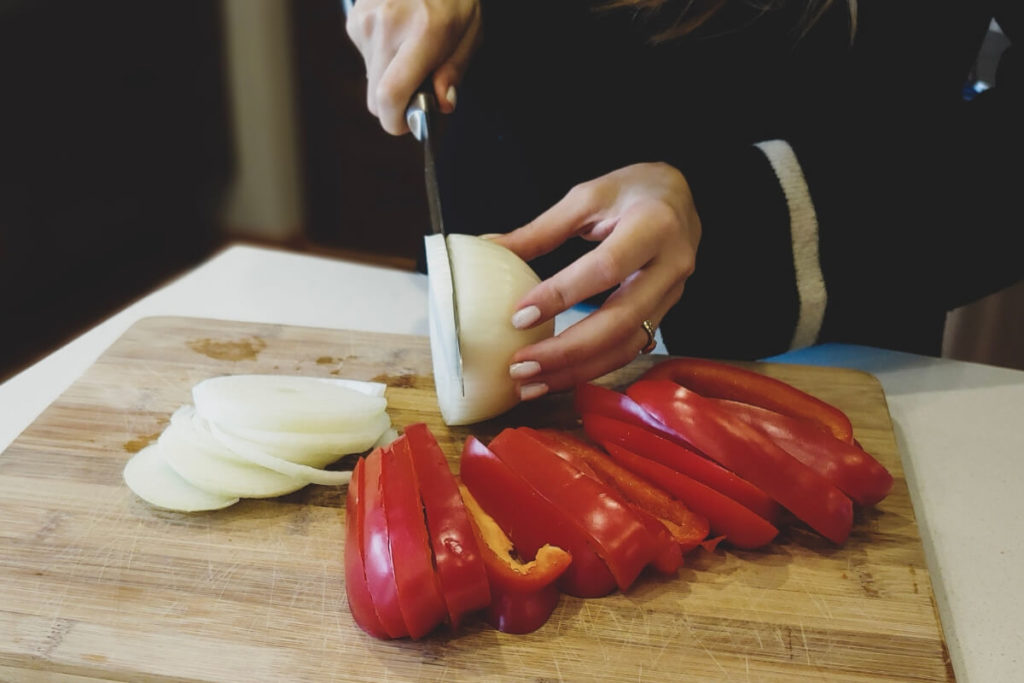 Steps:
(When it's time to cook)
Stack two sheets of tin foil (to prevent leakage) and shape the middle into a bowl, with 3" – 4" of extra foil hanging around the edges.
Put your meat (except shrimp,) veggies, beans, and spices into the packet. One packet per person, so each person can mix their own.
Add in equal parts rice and water (so if you had ½ cup of rice, add ½ cup of water.)
Add a splash of red wine.
Mix together, and close up the tin foil pouch so your mixture is wrapped up and won't leak.
Place your tin foil wrap next to the fire or on coals, NOT on an open flame.
Cook for about an hour, moving the packet every 10 minutes or so.
With about 10 minutes left, skewer your shrimp and place them on the grill for approximately 10 minutes, rotating once.
When it's done, the food should have a slightly browned crust around the edges.
Add in your spiced shrimp off the skewers, squeeze a lemon wedge over the paella, and enjoy!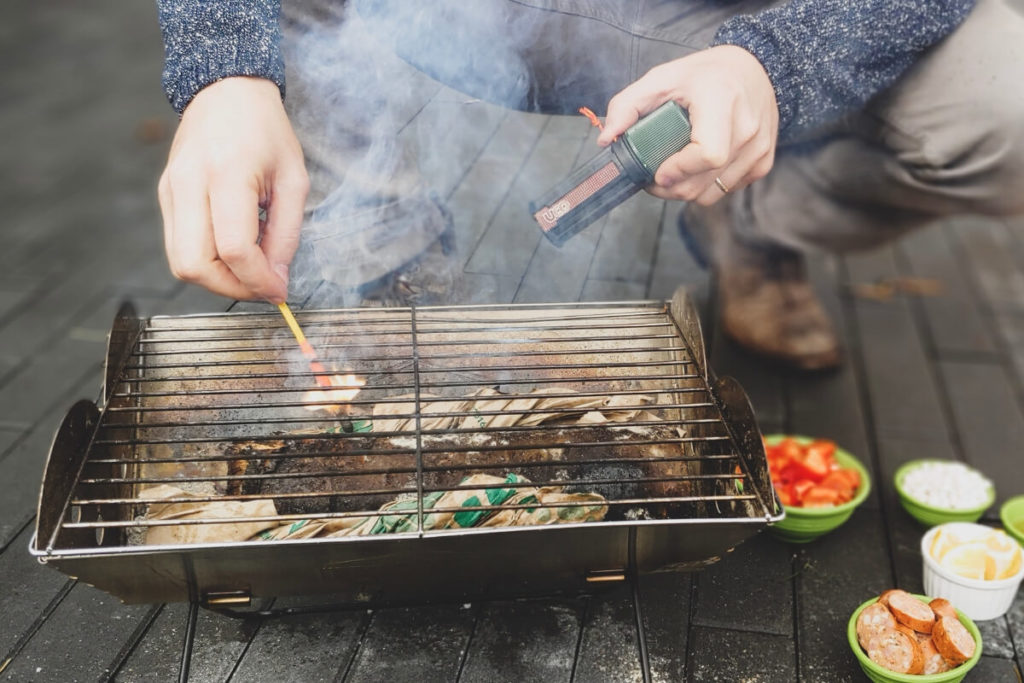 Bonus: If you have leftovers, you can throw the whole mixture into scrambled eggs or egg burritos for breakfast the next morning.
Recipe Notes:
If you're car camping, no need to use dehydrated beans or pre-prep your onions and peppers.
Though this paella is cooked on the coals, you'll still need some kind of portable grill for your shrimp skewers.
To really make this easy, build your packets in advance and just add water, wine and oil when it's ready to cook.
For wine, we recommend using a small boxed wine or soft-sided, sealable beverage bottle.
If you didn't get your spice blend correct while cooking, no problem – just sprinkle more on after it's done cooking to taste.
Some general tips for all recipes:
Make sure you have the right gear. Check in advance if your campsite has grills over the firepits and bring a portable grill if it doesn't or if you're using a backcountry fire pit.
If you're guerilla camping or camping outside of an established area, bring a portable firepit to cook in and easily move from site to site.
Pre-measure to save space. If you're backpacking, measure your spices in advance and put them in one small bag, rather than carrying individual containers.
Before you begin cooking, get a consistent fire going with flames under the height of your grill. Having flames lap the side of your cooking container increases your risk of burning both your food and your hands.
To prevent wildlife encounters, never leave dirty dishes sitting outside, especially overnight.
Make sure to always thoroughly extinguish your fire before going to bed or heading to the trails. Never (ever) leave a campfire unattended.
When cooking, place your pot on the sides of the fire; cooking directly over the hottest part of the flames is a good way to burn your food.
Keep your wood dry. Avoid storing it on the ground.
With our campfire cooking recipes, we're confident mealtime will become the best part of your next camping trip. With tools like a portable grill that's easy to fold up and carry on the trails, you'll have no excuse for eating dehydrated food again. Happy trails!