Chickpea Salad Recipe from Pow and Chow Book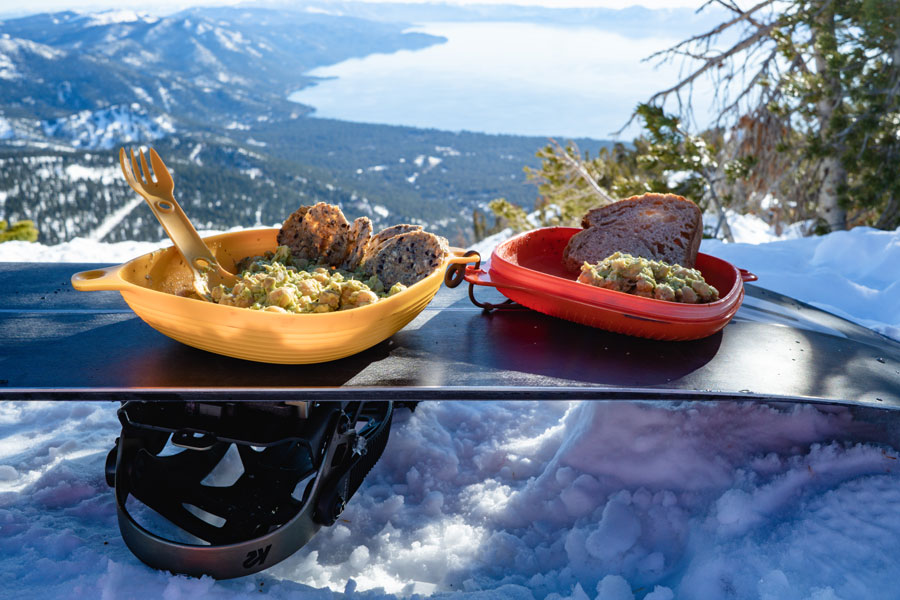 Chickpea Salad
We're all familiar with chicken salad… right? It can either bring back fond memories of eating homemade sandwiches with your family, while exploring the great outdoors on a beautiful Saturday afternoon. Or it can remind you of the mystery mush that they served you in elementary school. Maybe someone in your family had a famous recipe that everyone loved or it was always a weird scoop of stuff on the side of your plate that you were never happy to see there.
No matter what your relationship is like with this classic dish… I would like to take this opportunity to introduce you to Chicken Salads' close friend… Chickpea Salad.
Chickpea Salad is everything you look for in a friend:
Easygoing, you can bring them along anywhere or enjoy time with them in the comfort of your own home. Healthy, they are positive influences in your life that will give you the energy to get outside the box and live your life. Comforting, no matter what your mood they are fun to hang around with. Uncomplicated, you don't need a whole lot of resources to have fun with them. Likable, everyone will love them and they're perfect for sharing so you will never feel overprotective of your new friend. Versatile, you can put them in almost any situation and they'll be happy to be there and so will you. Basically, Chickpea Salad is the perfect friend and the perfect dish.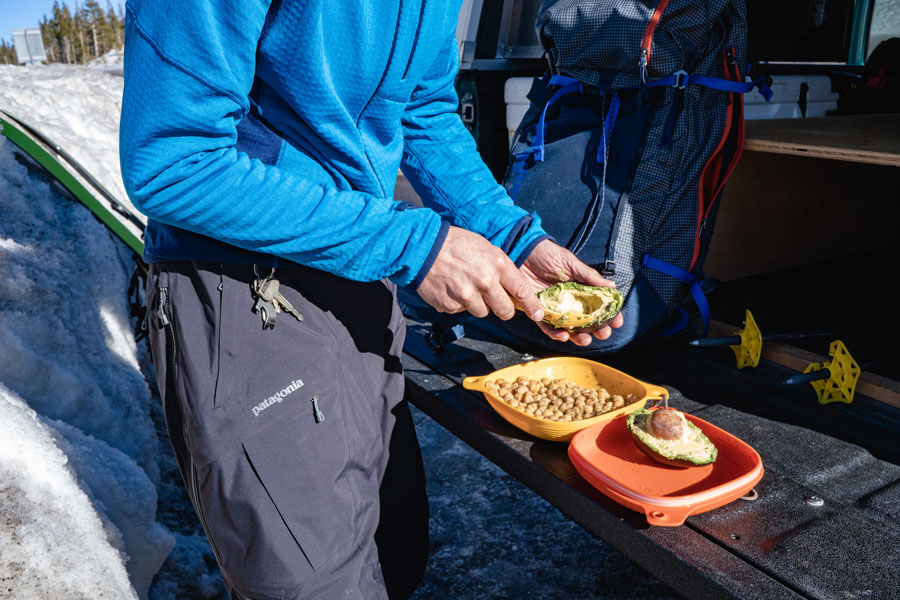 First and foremost, this recipe was designed to be plant-based. Why plants and no animals? That's a heavy topic that can be an endless topic of existential discovery and contemplation or for any outdoor enthusiast. However, eating plants can just be out of convenience. No need for refrigeration which makes life easy and without all that grease it's easy to clean up. Those are both ideal options for a life on the move out enjoying nature's finest.
Plants are also easy to digest and give you that instant energy you need to get your butt back on the dusty trail. In order to get you up that mountain, you'll need some nutrition too. So with all that protein from those chickpeas and healthy fats from the avocado, you'll be jamming in no time. It's also a satisfying dish that will cure your hunger. So whether you eat plants or animals, plants and animals, or animals and plants this recipe is something that anyone can get behind and enjoy.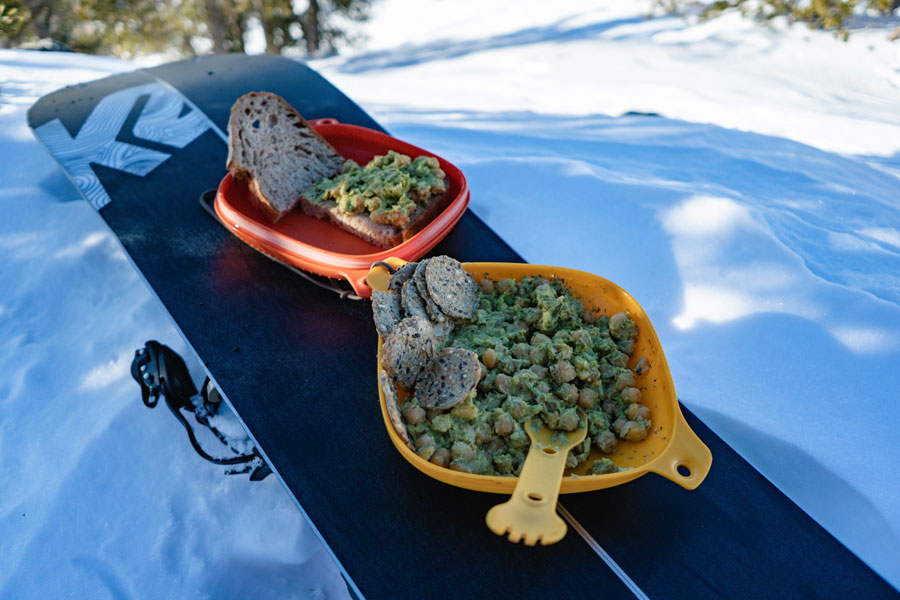 The goal with this Chickpea Salad recipe was not only to make it plant-based but also to make it simple. You can easily keep all these ingredients on hand in your home pantry, your truck pantry, bike pack pantry, your pantry's pantry, and any other pantry out there. The ingredients don't take up much space, easy to store, and are all staples in other dishes so you can always have these things around.
It's perfect for those times when you're too hungry to figure out what to make so you end up throwing something weird together and then wonder what you were thinking? Next, whether you're at home or out in the field, washing dishes sucks and should be avoided whenever possible. This recipe requires minimal dishwashing and maximum fun having. All you need are the essential tools. Knife, spoon, fork (or better yet, a UCO Utility Spork!), and some sort of bowl or vessel to stir things up in. The UCO 4 Piece Mess Kit (shown below) is perfect for this.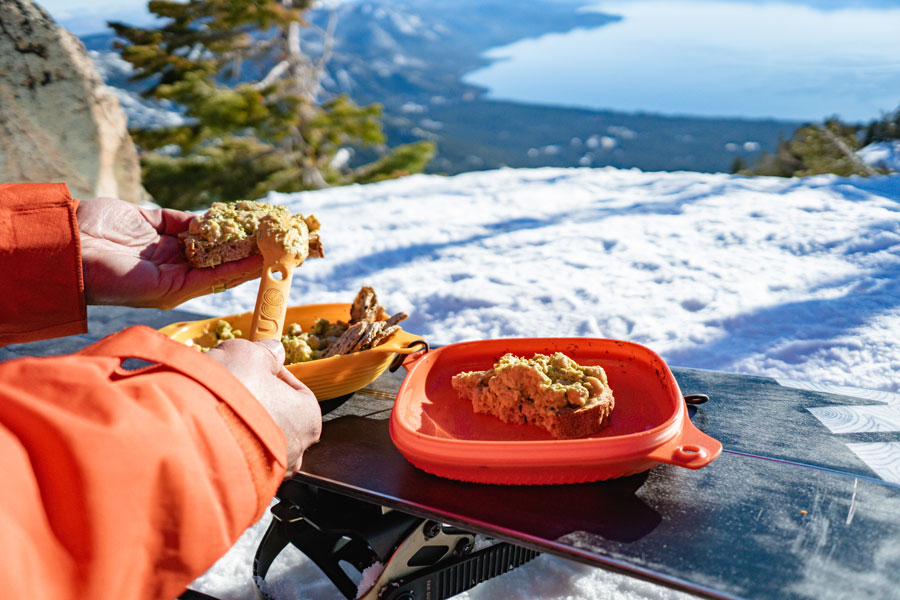 Versatility was also high in the priority list for this recipe. Think of the Chickpea Salad as the main dish that has endless FTF options. FTF meaning "Food To Face" of course. You can pick your delivery option of choice. You got some tasty bread, spread the salad on there and enjoy a sandwich. Heck, you can even enjoy the sandwich open-faced because life is all about options. You got some crackers chips, put the salad in a bowl so everyone can dig in and scoop it up into their faces.
How about a gluten-free option? Wrap it up in some lettuce…I think they call that a "Lettuce Wrap?"…genius! Or for all you purist out there, just eat it straight up with a spoon or fork (ideally a spork because why not?). The possibilities are endless so use your imagination and remember the on rule is getting the food to your face!
The Recipe
Without further ado, here's the recipe for Chickpea Salad, your new best friend: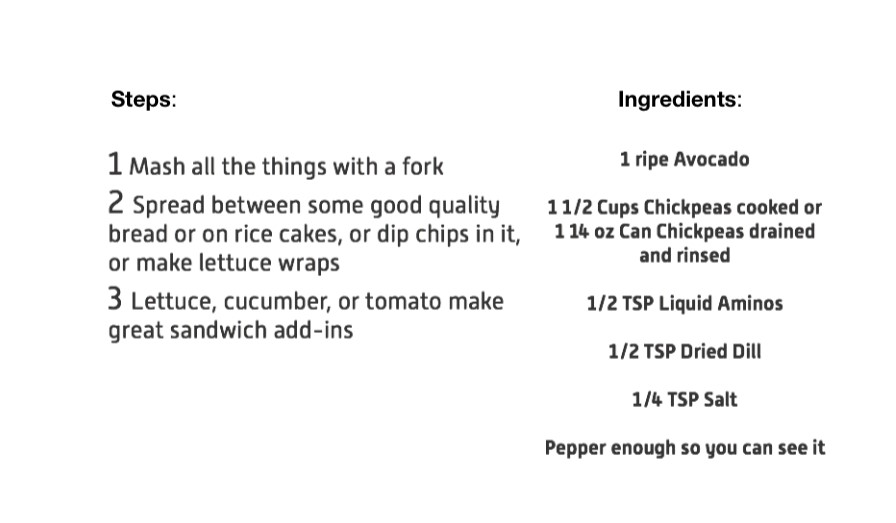 This recipe is from the new cookbook called Pow And Chow by Hannah and Tim Eddy.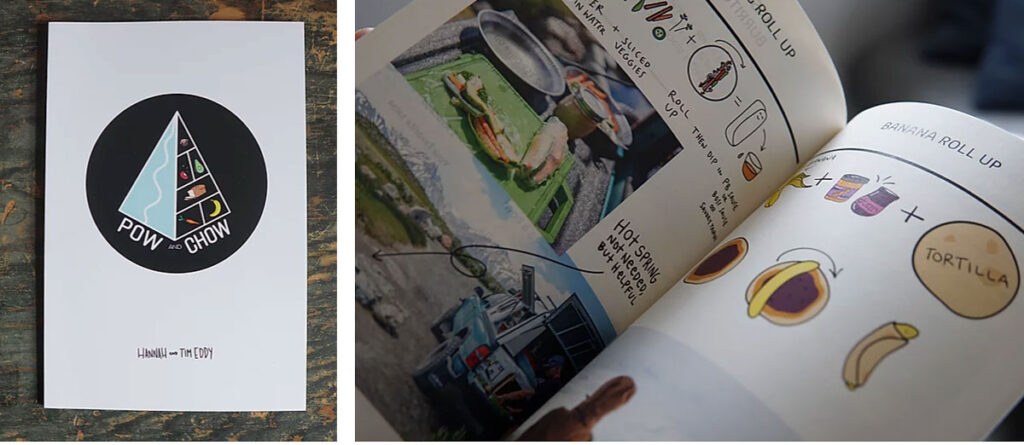 100% of book sale profits are donated to Protect Our Winter because planet Earth needs your money way more than we do. A plant-based cookbook created around a simple everyday pantry. These recipes are for everyone… but especially for all you people on the move that want to spend more time getting amongst it in the great outdoors with a more sustainable diet that will help the outdoors stay great.
Photos, Words, Recipes: Tim Eddy. Photos, Illustrations, Recipes: Hannah Eddy. Printed in the U.S. on 100% recycled paper, 62 pages of good stuff. 6×9 Soft Cover.