Cook Delicious Spicy Ramen While Backpacking – Easily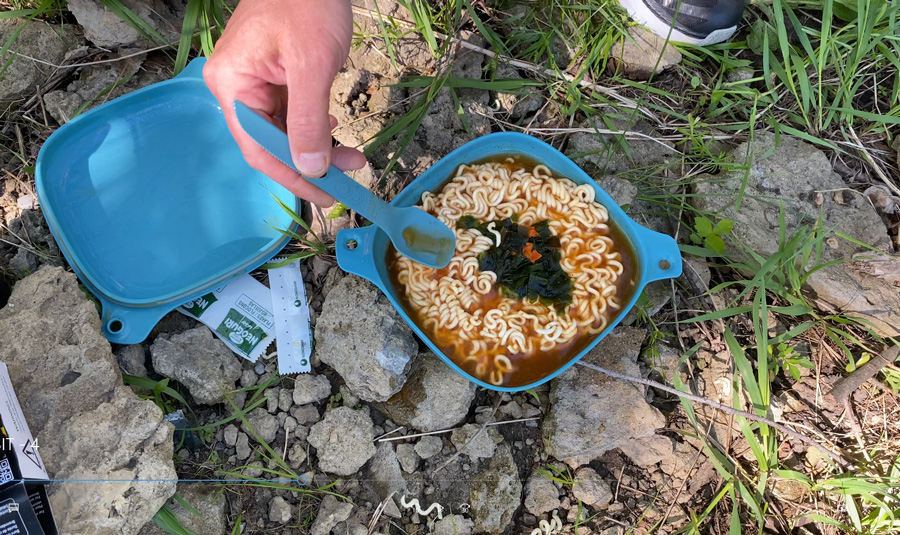 Backcountry Ramen
Imagine a long day of hiking and hunting. It's cold, windy, maybe even raining or snowing. The day is drawing to a close, and you are ready for a quick bite to eat. You are far from the comforts of your own home and far from the nearest restaurant. You could dig into your pack for a smashed peanut butter and jelly sandwich or the ever present granola bar. Or, with a bit of preparation and planning ahead of time, you could sit down to a hot and satisfyingly spicy meals in the great outdoors. One of my favorite go to meals after a long day in the field is a double dose of hot ramen. There is really nothing like a hot meal after being outside for a long time, and I find that ramen is the easiest and tastiest hot meal to prepare.
Whether I break out the stove on the tailgate right there in the field or head back to camp for dinner, I look forward to an easy and spicy meal. I have been working on perfecting my favorite ramen recipe over the last couple of years. I am inspired by different recipes, as well as some ideas from watching the movie Parasite. I practiced many iterations of ramen, tweaking here and there until I landed on what is now my tried and true ramen recipe. When I am at home and have access to more ingredients, I play around with adding a variety of vegetables and wild game such as venison or pheasant, but here I will concentrate on making a simple ramen in the backcountry. Using a small, handy solid fuel stove from Esbit and a Mess Kit from UCO.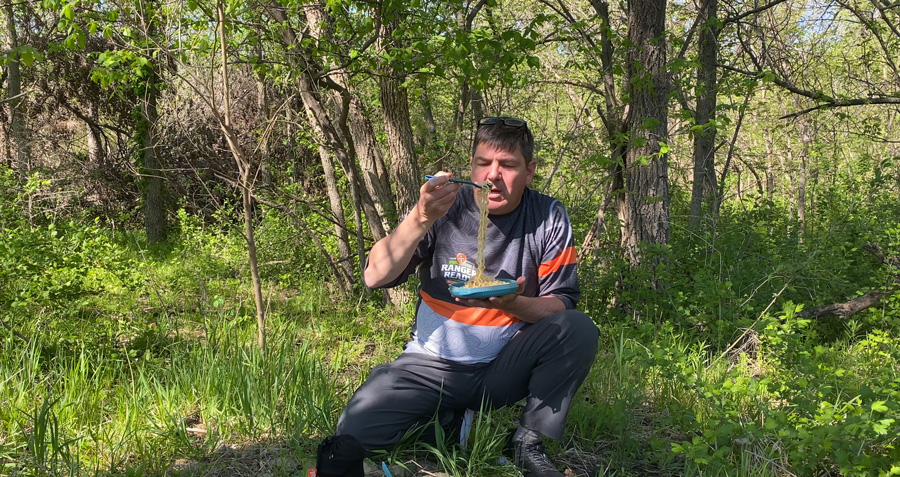 The Ramen
The ramen I most like to make is a combination of two ramen packets: Nongshim Neoguri Noodles in Spicy Seafood and Nongshim Chapagetti Chajang Noodle. Both of these can be ordered off of Amazon, can be found in local stores, and sometimes are found in Walmart. I frequent a local market that sells a large variety of ramen, and while I often try out new varieties, I still have not found a combination that beats these two. I use a third of the spice packet from the Chapagetti and an entire packet of the spice from the Spicy Seafood. I like my ramen very spicy, but if you don't just reverse the combination; use a whole packet of the Chapagetti spice and a third of the packet from the Spicy Seafood.
As with all recipes, taste as you go until you find that perfect level of heat for yourself. In the backcountry, I keep the ramen simple and just prepare the noodles along with the spice packets, leaving out any add ins. This keeps things light weight and simple. When cooking at home, however, I often add in mushrooms, extra seaweed, green onions and stir fried venison or braised pheasant to make a hearty and delicious meal.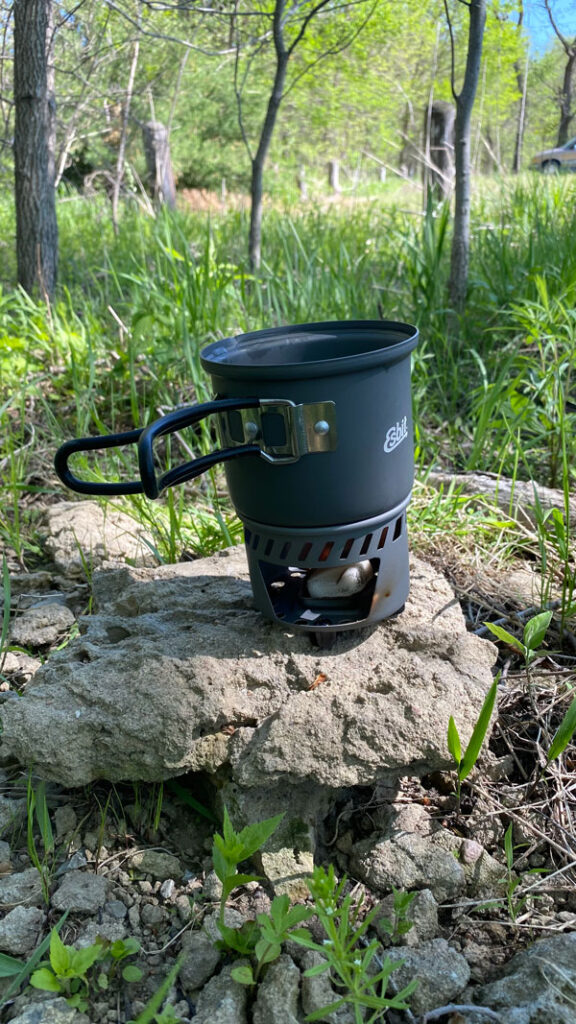 The Esbit Solid Fuel Stove and Cookset
The ingredients are important, but they are nothing without a way to cook them. I fell in love with the Esbit Solid Fuel Stove and Cookset. The main reason I like the Esbit set is the weight: the entire kit weighs 6.9 ounces and easily fits into a day pack. That's less weight than a can of beans. I can use the Esbit Stove and Cookset for lunch in the field; I can even cook inside of a hunting blind. As well, because the Esbit uses solid fuel cubes instead of a gas canister, I never have to stress about carrying this set if I am travelling to locations via air travel: the solid fuel cubes can easily pack in my checked bags. The Esbit comes as a complete unit which includes the stove, the pot, and a lid.
For convenience, the Esbit Solid Fuel Stove and Cookset comes with mesh pouches to carry the system in, and the pot has graduations to show how much water must be added. It is made out of hard-anodized aluminum and sells for under $40.00. It has a capacity of up to 20 ounces of liquid. The stove will heat water or food quickly and can help you make everything from a quick cup of coffee to boiling the water for ramen.
I started using this set up after bringing a gas stove on a hunt. I had traveled via airplane, and when I got off my plane, I couldn't find the cannisters that I needed in order to use the stove. I was out of luck for warming up my lunch and making coffee on each day while on the hunt. Solid fuel gives you some real options when traveling. They are easy to pack and can travel internationally so you don't have to worry about finding anything other than a lighter. If a lighter or match is unavailable, you can even use a flint and steel to light the fuel cubes.
The pot moves heat quickly to boil water, and a single tab of the fuel will boil water within a few minutes. The stove acts as a windscreen to help keep the system working in just about any kind of wind. If you find yourself in extremely windy conditions, I suggest keeping the entire system surrounded with a backdrop to keep it running and lit. Once the fuel is lit, it will burn, but as we all know sometimes in high winds it can be hard to keep the lighter lit.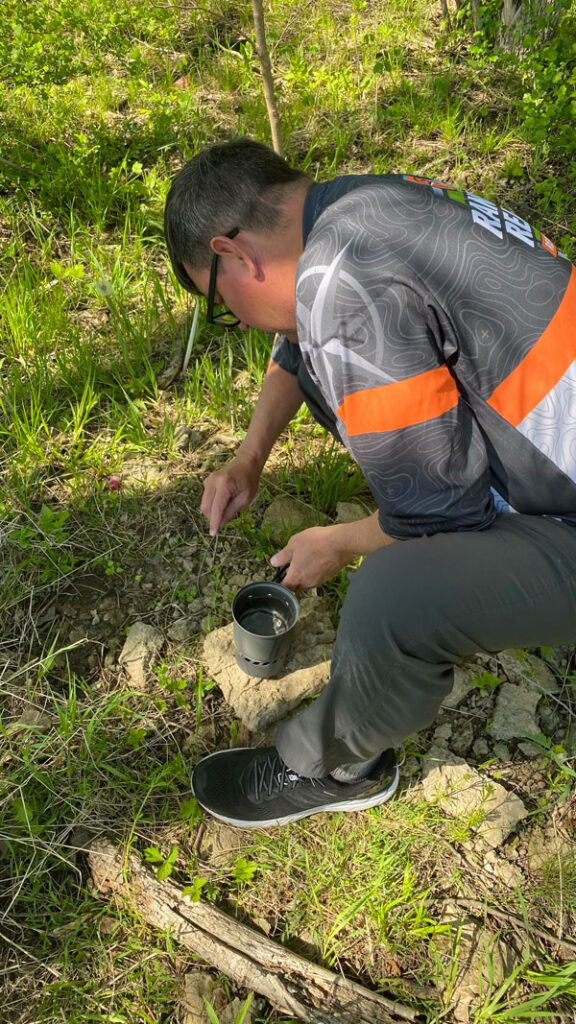 Cooking the Ramen
Cooking ramen is easy, and cooking ramen in the field does not present any extra challenges to speak of beyond possible weather issues like rain or heavy wind. To make ramen on the portable stove system, I break up the ramen into quarters, put it into a ziplock bag, slide it into the one of my UCO mess kits so that I have it all ready. I make sure to have a single bottle of water to make the broth. I then boil the water. To do this, I simply light a single Esbit solid fuel cube into the stove and then place the pot on and pour in the water to the pot. I use the entire 16 ounce bottle. I bring the water to a boil and pour in the spice packets so that I can get it mixed in. Once it is boiling with the spice packs, I pour it over the ramen in the UCO mess kit and leave it to stew for 10 minutes. This gets the noodles just right. Then it is time to eat. What I like about this set up is the UCO works as an insulator and the ramen is nice and hot and super satisfying when I complete my meal.
Recipe:
Boil the water, add the spice, pour over the noodles. Don't hesitate to play around with different kinds of ramen to find the one that truly excites your taste buds and works for you. I find this works far better for me than a cup of soup, and it is always a welcome change from freeze dried meals. Enjoy your backcountry ramen.
Written by Kevin Paulson, the owner and founder of HuntingLife.com and has been pursuing adventures in the outdoors for over 50 years.