Camp Cooking Tips & Amazing Spicy Chicken Trail Taco Recipe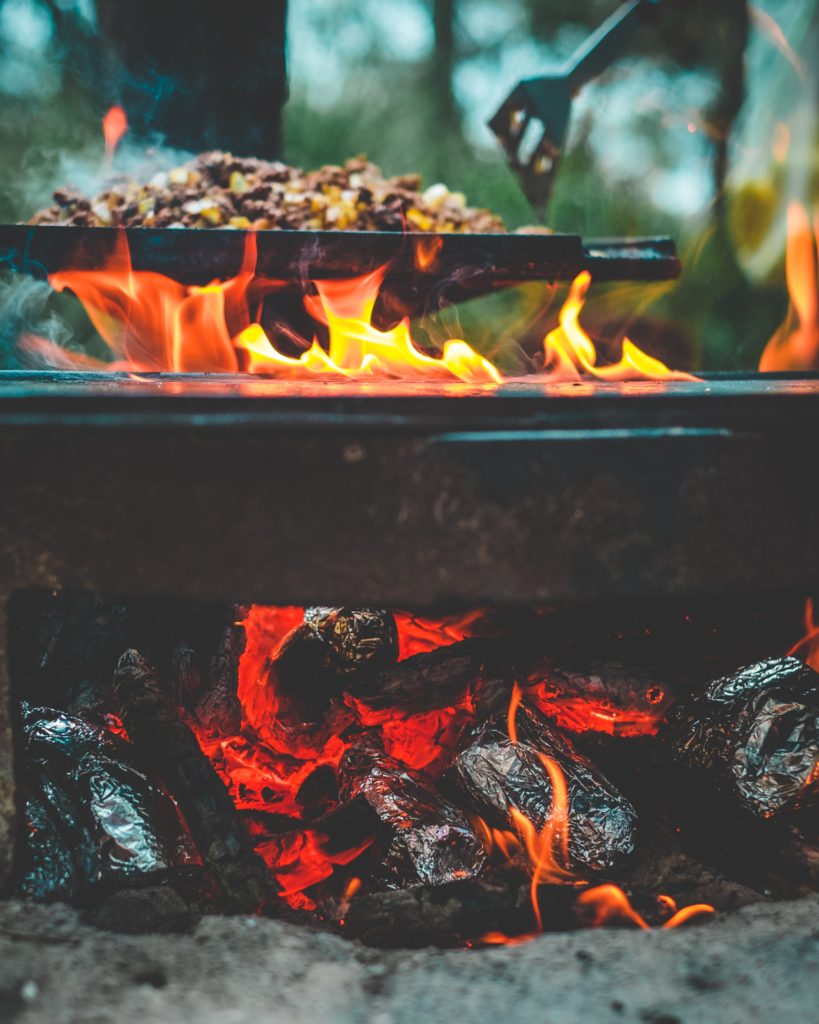 After a day spent on the trails, you're probably going to be pretty hungry by the time you return to your camp.  Whether you're hiking, backpacking, or just enjoying a little R&R in the woods, somehow a dinner made at camp always just seems to taste better. Nothing is better than a star-filled sky, a cozy sleeping bag, and a hot, homemade meal.
That is, unless that meal is burned and flavorless.
We know campfire cooking can be hard, especially if you're in the backcountry and have limited space to carry ingredients. And while making a gourmet dish over an open flame is not quite as easy as cooking in your kitchen at home, with the right tools and a little know-how, you can make a few campfire cooking recipes that are sure to be the envy of your fellow campers.
Level Up Your Camp Cooking
Here are a few of our favorite classic campfire recipes, bound to upgrade your camping game. Fair warning: If you follow any of these recipes, we suggest making a little extra – you're probably going to have campers nearby looking at their freeze-dried foods and wanting to come try yours instead!
Some general tips for all these recipes:
Make sure you have the right gear. Check in advance if your campsite has grills over the firepits and bring a

portable grill

if it doesn't or if you're using a backcountry fire pit.

If you're guerilla camping or camping outside of an established area, bring a

portable firepit

to cook in and easily move from site to site.

Pre-measure to save space. If you're backpacking, measure your spices in advance and put them in one small bag, rather than carrying individual containers.

Before you begin cooking, get a consistent fire going with flames

under

the height of your grill. Having flames lap the side of your cooking container increases your risk of burning both your food and your hands. [Read More about cooking over a fire]

To prevent wildlife encounters, never leave dirty dishes sitting outside, especially overnight.  

Make sure to always thoroughly extinguish your fire before going to bed or heading to the trails. Never (ever) leave a campfire unattended.

When cooking, place your pot on the sides of the fire; cooking directly over the hottest part of the flames is a good way to burn your food.

Keep your wood dry. Avoid storing it on the ground
For Backpackers Who Want to Spice Things Up 

Spicy Chicken Soft Tacos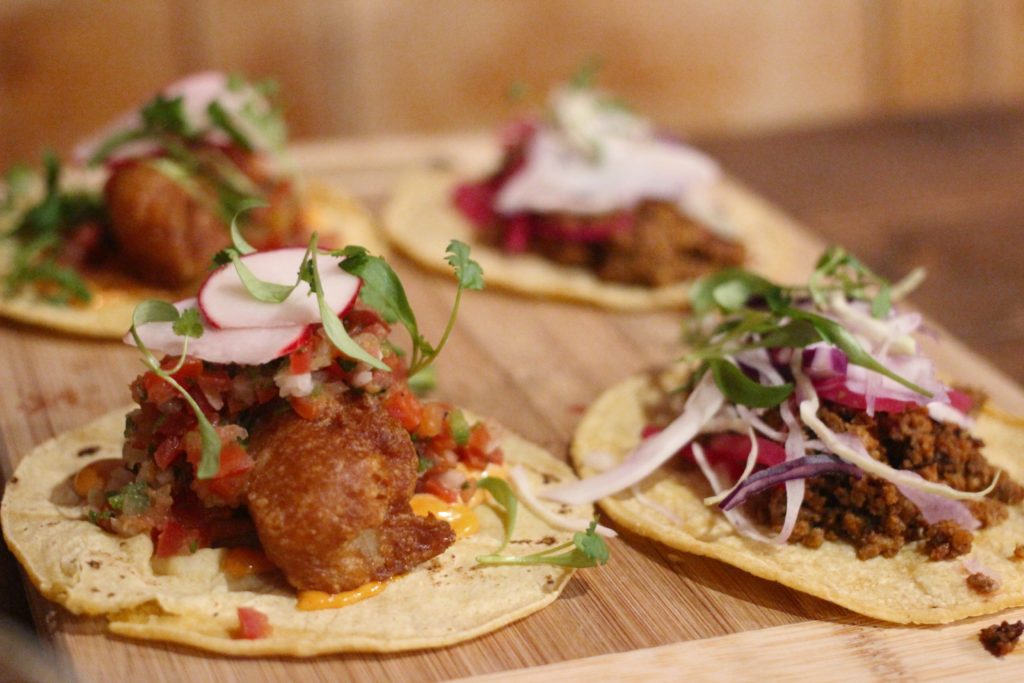 Photo by Amie Watson on Unsplash
This camping recipe uses lightweight ingredients and only one pot or pan, saving you valuable space in your bag.  This is for two people and is easy to make on a smaller cooking service, like a portable grill. Makes approximately two servings.
Ingredients:
Corn or flour tortillas

Yellow onion and red or green peppers

Shredded cheese

A handful of cilantro sprigs

An 8 oz package of pre-cooked chicken slices

Homemade taco seasoning. (

You can also just use a pre-made package from the store.)

Hot sauce (if you

really

like spicy.)

Vegetable oil (though you can use water if you don't feel like bringing a small container of oil)
You'll also need:
One medium sized pot or pan

Cooking utensil/spoon

A collapsible, portable grill to put over your fire pit. We recommend the

Grillput Portable Grill

. If you don't have a firepit, no problem – you'll just need a

portable fire pit

, too.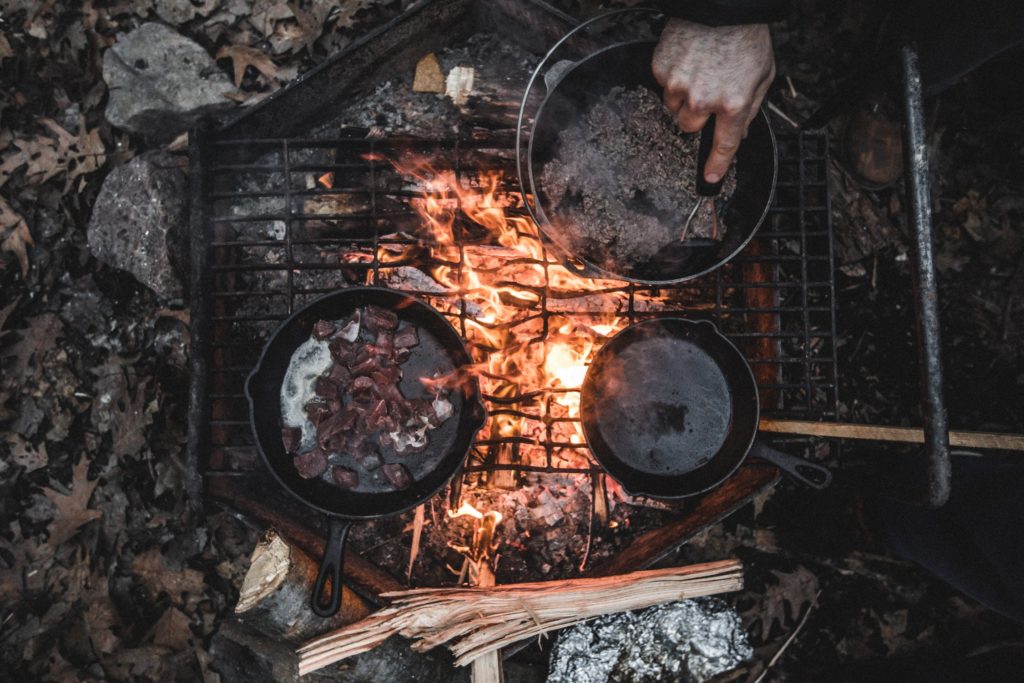 Steps: (At home:)
Slice your peppers and onion in advance and store in airtight baggie

Make your taco seasoning and secure in baggie
½ tbsp each of chili powder and cumin

¼ tsp each of onion powder, garlic powder, roasted red pepper flakes, harissa, cayenne pepper

Pinch of salt and pepper
Rip off and pack a piece of tin foil approximately twice the size of your tortillas
Steps: (When it's time to cook:)
Once your fire is ready, add two tablespoons oil or water to pan, plus pepper and onion mix

After they soften up (about three or four minutes,) add in shredded/sliced chicken and spice mix

Wrap your tortillas in tin foil and set package on cooking grill away from the flames (the idea is to warm them, not burn them)

Let chicken/onion mixture cook until water/oil is almost evaporated

Remove tortillas

With a

little

liquid left in the pan (to prevent burning,) scoop contents of pan into tortillas

Garnish with cheese, cilantro leaves, and hot sauce if desired
Recipe notes:
If you don't feel like making your own seasoning, you can buy a taco seasoning packet from the store – just know they tend to be saltier and less spicy that homemade ones.

Your fire is ready when you have consistently hot embers, and most of your logs are burned down. If you put the pan on too early, your food will be ashy and overwhelmingly smokey.