How to Choose a Headlamp
Light up the Night with the Perfect Adventure Headlamp and Our Headlamp Buying Guide
Autumn is a great time to get outside, but earlier sunsets means you'll be spending several hours in the dark on your next camping trip — unless you plan on going to bed at 6 PM. So if you're looking forward to late-night bonfires or just plan on setting up camp after dark, you'll need your own source of light. While lanterns work well for sitting inside your tent, if you're going to be chopping wood and socializing under the stars, you'll need a hands-free headlamp. There are a lot of options on the market, so we put together this easy-to-follow headlamp buying guide to help you figure out which type is best for your needs. Adventures are just starting when the sun goes down!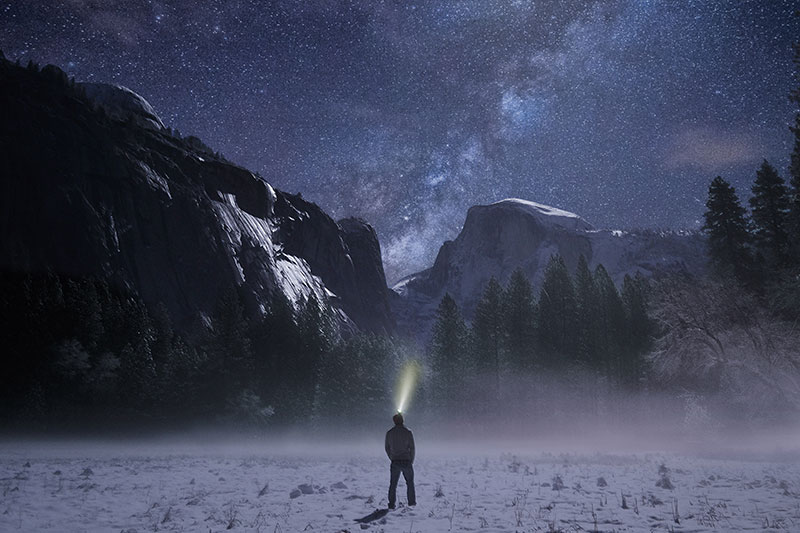 Rechargeable Headlamp vs. Battery Power
When it comes to power, you'll have two options: a rechargeable headlamp, or one that uses batteries; typically AA or AAA, though a few use small watch-type batteries. While rechargeable batteries can be more lightweight, you'll have fewer hours of light per charge than you will hours of light per battery. For shorter camping trips, you may not need multiple days worth of light and decide that reducing weight is key.  It goes without saying that rechargeable headlamps are also more eco-friendly, as most used batteries end up in landfills.
Headlamps with batteries generally provide more hours of light and have no charging time — just replace the batteries and you're good to go. These headlamps also tend to be less expensive, which may mean they have few features. But for a recreational camper or backpacker, you may find that you don't need higher end features like water resistance or a detachable strap.
If you love the idea of not burning through batteries but are worried about potentially getting stuck in the dark, think about getting a hybrid rechargeable headlamp that can use batteries as a backup option, like our headlamps.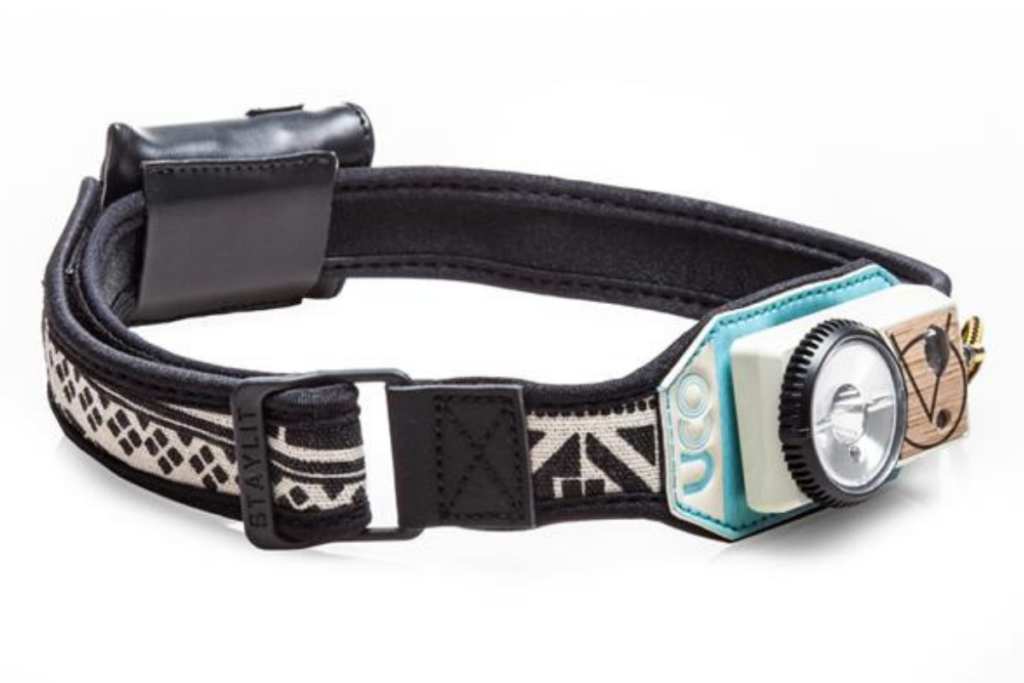 Rechargeable Pros
Often lighter
More eco-friendly
No need to buy or carry batteries
Rechargeable Cons
May not run as long on a charge as batteries
If you forget your charger, you're in the dark
May not be suitable for extended backpacking trips, unless you have a solar charger
Battery Pros
In general, you'll get more hours of light than you will from a rechargeable
You can carry extra batteries for extended trips
Usually cheaper
Battery Cons
Less environmentally friendly
Can be heavier
May not have as many high-tech features or waterproofing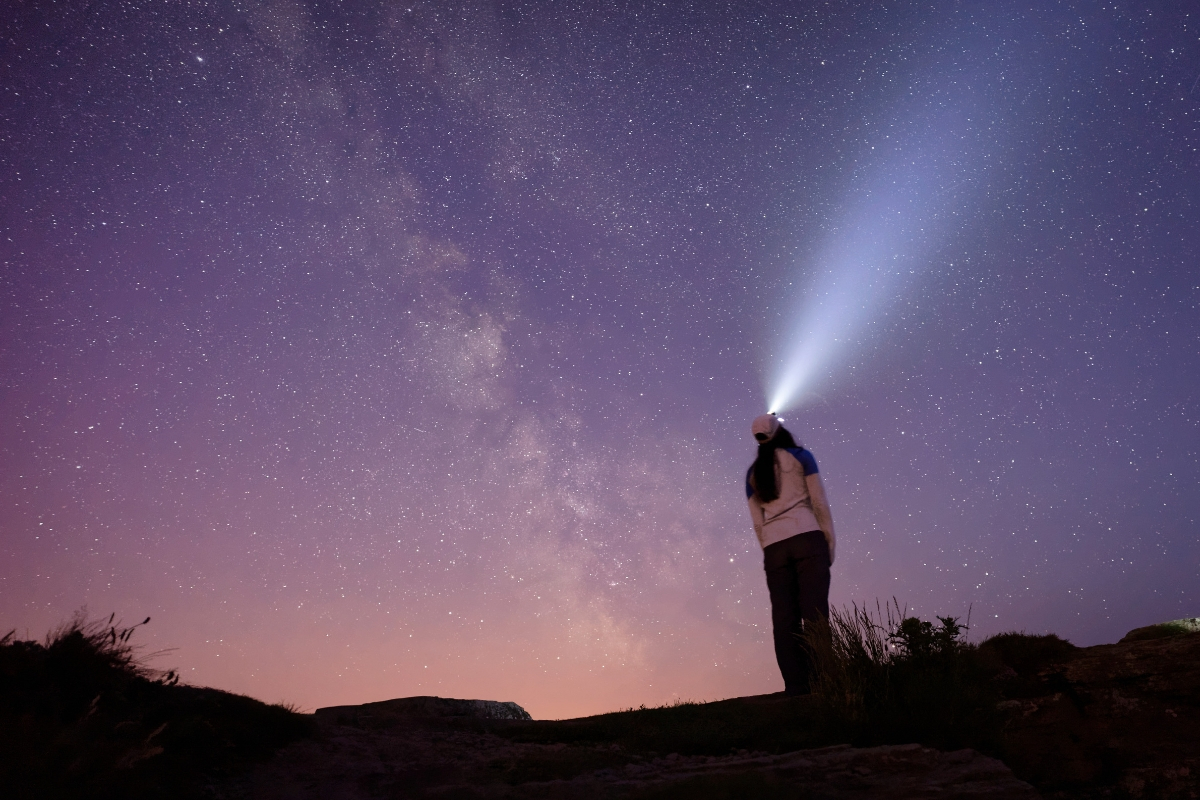 Fit
After you've been hiking or hanging in the woods all day, the last thing you want is a strap that's going to give you a headache after a few minutes of wear. So make sure your headlamp has a comfortable, adjustable fit and stays in place on your forehead without being extremely tight. Some headlamps, like our Vapor model, have a neoprene strap, which means they stay snuggly in place without sliding or slipping. If you're planning on highly aerobic or active pursuits in the dark, you may want a headlamp with an additional third strap that goes across the top of your head — just remember that those can be harder to wear in cold weather with hats or hoods.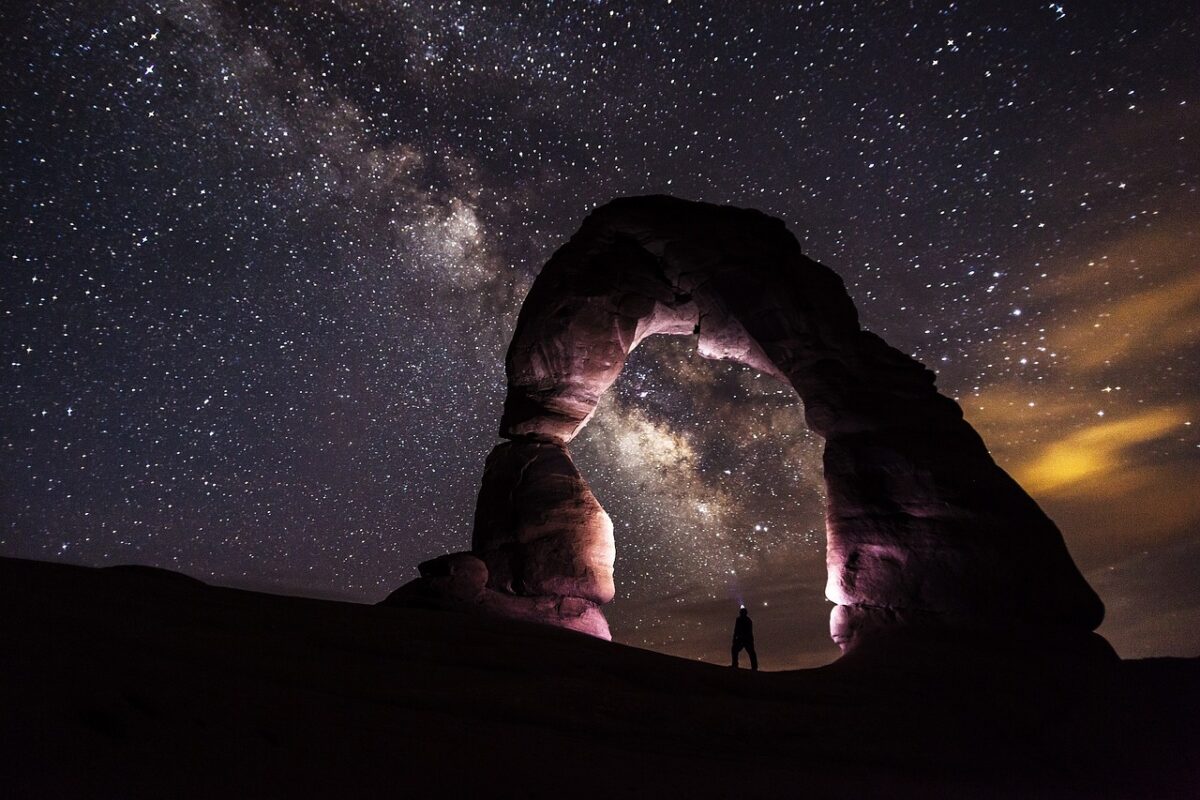 Brightness Options
A lumen is measure of brightness of an light. While brighter is generally better for walking through the woods, you'll probably want a dimmer light for things like getting out of your tent for a midnight bathroom break, or ensuring you don't blind your fellow campers if the light catches their eyes. Though you can find some simple "on-or-off" style headlamps online, you'll discover after one night in the woods that adjustability is key. Look for a headlamp with an adjustable brightness dial rather than set low, medium, and high options to find the perfect amount of brightness.
Beam Distance/Projection
Somewhat related to brightness is beam distance, or how far your light will shine. In general, the more lumens a headlamp has, the further it will project. For most users, a beam projection in the 40 foot range will work, if you're just attempting to highlight a path in front of you or illuminate a task at hand, like chopping wood. If you're planning on exploring the woods at night, going on an extended hike, or looking for wildlife, you'll want a much longer projection.
Still have questions after searching through this headlamp buying guide? No problem – just email us with questions, or explore all our headlamp options here.
About Our Author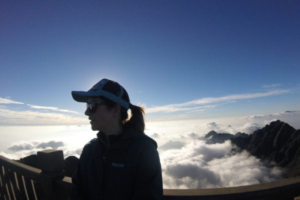 Suzie Dundas is a Lake Tahoe-based freelance outdoor and travel writer. She's covered everything from California food and wine culture to the ethics of Pablo Escobar-themed travel. You can find her work on Forbes, Playboy, Fodors, SkyLife Magazine and more, or at suziedundas.com or @hikeupyourskirt.