Where Ocean Meets Desert – FIELDTRIP 002 – Sailing Baja
Ambassador Gemina Garland-Lewis set off in November of 2016 for the opportunity of a lifetime: The chance to sail a 40 foot boat from southern California to the tip of the Baja peninsula with her friends John and Becca from Seattle. Here is an excerpt from her experience: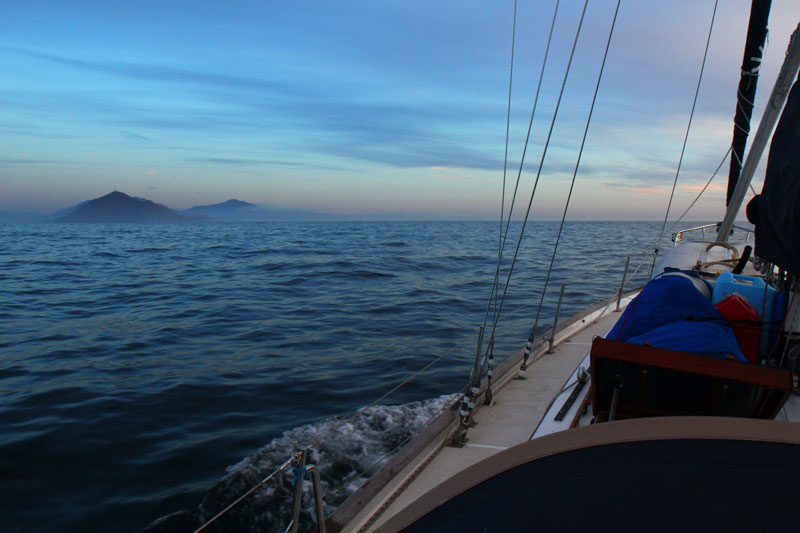 It's a ridiculously beautiful evening here in Baja tonight. We're nearing the southern tip of the peninsula now, and the water is finally warm enough to enjoy jumping in. Our day has been spent donning masks, snorkels, and – for some among us – a spear gun in the hopes of catching dinner. Bright colors dart past my eyes from every direction as fish we've been seeing since the cool waters of California are now joined by species that I've only seen before in the tropics.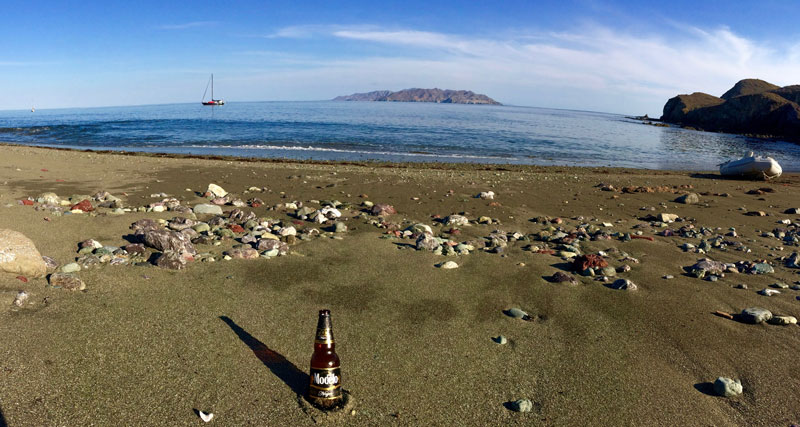 Swimming ashore, I am greeted by the quiet stillness of the desert in the afternoon. As I wander over dry earth and weave around cactus patches, I can't help but break out in a grin when I think of how different these two environments I've just explored seem from each other. But that's the beauty of Baja – two of my favorite biomes, ocean and desert, meeting each other head on. I feel like I'm in between two worlds as I look back at our sailboat, Halcyon, anchored in the clear waters of Bahía Magdalena.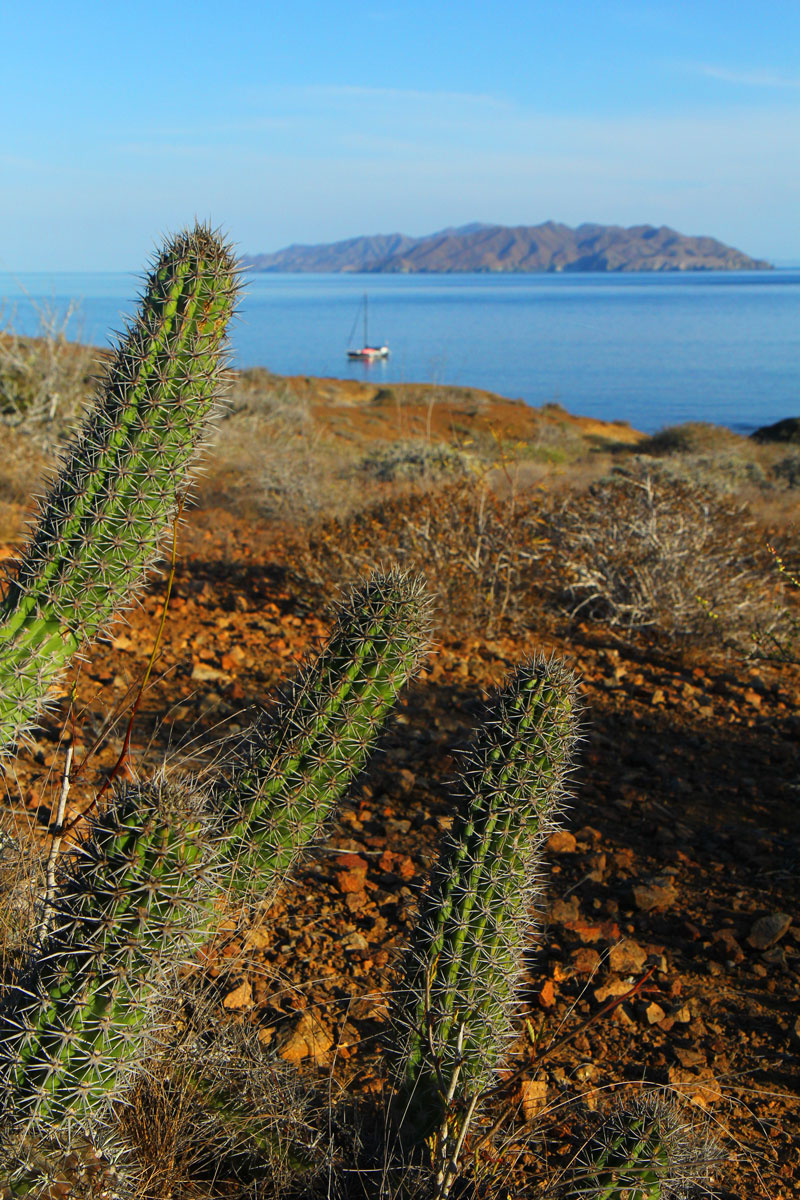 I've been aboard Halcyon for almost a month now, having traveled some 800 nautical miles since I met her in Santa Barbara, CA. Her owners, friends of mine from Seattle, left their slip in Shilshole Bay Marina last August to live the cruising life and explore the world on their beauty of a Valiant 40. So when my job transitioned from full-time and on-site to part-time and remote at the end of October, I could think of nothing better than to hop on board with them and sail down the Baja coast – a place I've dreamed about exploring since I was just 12 years old.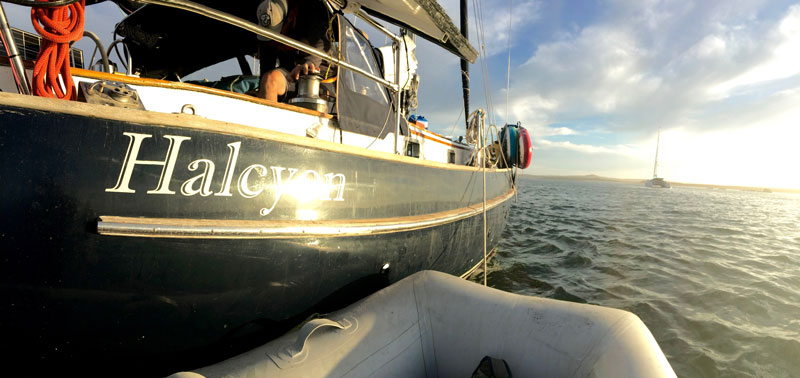 Since I came on as crew, we've spent time at seven anchorages, each offering a remote place of beauty or time in a city to focus on boat work and stocking up on supplies. On the nights we're not at anchorage, we're sailing. When a night passage is ahead, a schedule is drawn up around late afternoon. We divvy up shifts until the expected time of arrival at our destination, leaving each of us three hours on and six hours off during the night. Since it's November in the northern hemisphere, night lasts a little longer for us. It's a quiet and beautiful time to be awake – just you, the night sky, and the rhythmic sound of waves hitting the hull. On some nights, when the conditions are just right, we see green streaks approach the boat in the water as playful dolphins join us for a bow ride and cut through the bioluminescent creatures near the surface of the water.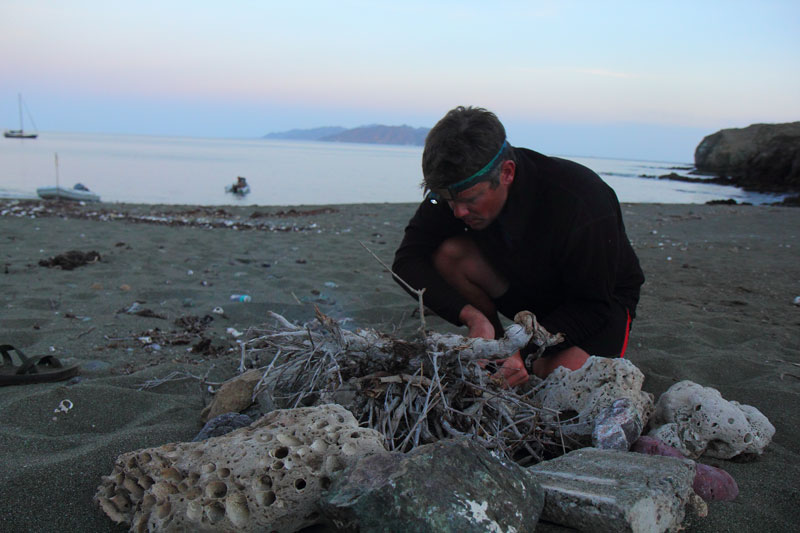 Back at Bahía Magdalena and returned from our various adventures on shore, we decide it's a good night to have dinner on the beach. Food is brought in from the boat, including some fresh lobster tails we got from a local fisherman that morning. Firewood is collected and we lay out some snacks to start with as our fire master dons his headlamp and grabs a nice flat rock for reheating some of our Thanksgiving leftovers. The sun begins to set and the desert mountains all around us light up in gold as the sky turns purple and pink. Suddenly, as it starts to get dark, we are descended upon by what seems like millions of sand flies. They drown in our ranch dressing, they cover the mashed potatoes we are reheating over the fire, and every piece of exposed skin tickles with their flight. In the minute it takes to adjust, part of our meal is lost to the flames and the insects. We decide there's nothing to do but abort and within moments we are back in the dinghy and heading to Halcyon.
The next morning, as I wash hundreds of dead sand flies off the dinghy, I smile again at this life of adventure, its beauty and its unpredictability, and prepare for the next passage ahead.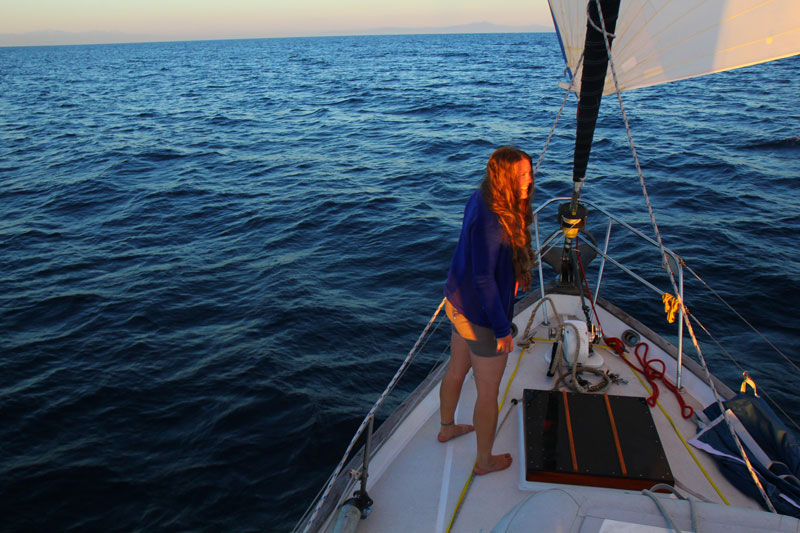 While growing up in New Mexico. Gemina developed a love for the land and a curiosity for how humans interact with their environment. She is a National Geographic Explorer and now lives a life on the move, but calls the Pacific Northwest 'home'.
Check out a collection of her work at http://www.geminagarlandlewis.com/
Follow her Instagram @geminarose